The biggest factors to consider when choosing devices that will connect to your UC solution are: determining the required installation time and avoiding installation-related issues (lengthy installations, device-related errors, etc.).
FXS / ATAs
Ideally, all devices connected to a modern UC server should be IP endpoints (PCs or SIP Phones).
In practice, there are many reasons to stick to analog FXS ports to connect analog devices:
Users do not need advanced features on their endpoints

Most fax machines have no built-in VoIP capabilities and require an ATA

Analog modems connections

Substituting many twisted pair cables with CAT-5 or CAT-7 cables might be:

Too expensive

Not possible because the resulting Ethernet cable would be longer than the maximum allowed Ethernet length (100 meters)
In such cases, the easiest way is to connect an ATA, which is a converter between SIP VoIP and analog interfaces.
Exercise caution when connecting PoS, modems, fax machines, and other devices. For fax machines, good T.38 support should ensure good results, but PoS and modems might not work over VoIP connectivity. A low compressed codec (G.711a or G.711mu) is required to help ensure no packet loss and low jitter.
Furthermore, to ensure that PoS and modems (up to 9600 baud) will work, all connected ATAs should disable Echo canceling and other voice enhancements, as these can disrupt the audio signal. The same should be done by other media gateways or VoIP operators involved in the call termination. Over ISDN, the bearer capability must also be set in many cases.
WiFi phones
Wireless devices offer many advantages to mobile users around the company.
When using WiFi as connectivity, the following conditions must be met:
WiFi coverage must be excellent.

Roaming over the entire WiFi network must not lead to noticeable packet loss.
In addition, the WiFi devices must offer long battery life to be effective both in standby and in talk mode.
These conditions make adoption of WiFi VoIP phones difficult, especially in countries where the transmitting power of WiFi access points is limited.
Mobile Apps
Mobile apps for Android and iOS bring the mobility advantages of wireless WiFi phones to normal smartphones.
Make sure all your target platforms are supported: iOS, Android, and Windows Mobile (although adoption is really low). If the organization uses tablets, the app should adapt to bigger displays to offer better usability.
A main disadvantage of using such devices is battery life, as the UC client / VoIP app has to share resources with all other applications.
Another piece of advice regarding the fact that standard GSM calls have priority over VoIP app-initiated calls: prepare users for interruptions during VoIP calls when a GSM call comes in.
A big advantage of smartphone apps is that they can also work over any 3G (or better) connection, thus they can offer reachability outside of the WiFi range.
My personal suggestion, when using a PC installed UC Client as a main phone device, is to inform users, in advance, of the advantages and drawbacks of apps on smartphones.
Wireless DECT Phones
DECT / CAT-iq phones offer many advantages over WiFi phones, such as better battery life and much better coverage, which leads to much better call quality and an improved user experience.
In many situations, DECT phones are still the best choice to offer wireless phone connectivity over large areas.
When using CAT-iq, many advanced services, including the data exchange between handset and base station (such as call history lists and centralized directories / phone books), can be built.
When choosing a DECT solution, make sure all necessary services are functional. As in the case with VoIP desk phones, the vendor might not support any advanced features on these devices.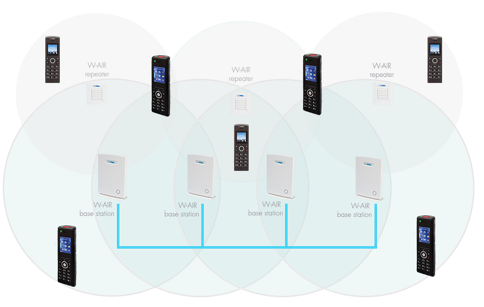 GSM Mobility
The final way to provide audio call capability is through the GSM Mobility feature.
This feature can be used in standalone mode or together with a smartphone app. The main advantage of this technology is simplicity.
If the selected VoIP or PSTN operator allows CID number to be set during outgoing calls, the mobility service can reach a high level of efficiency, by showing the real number of the caller to the called mobile device.
This feature is also extremely useful when forwarding calls to remote numbers, as it allows for the display of the real ID of the caller, instead of a less detailed office number.
If you are interested in this service, make sure the provider you have selected supports this service.