Wideband audio provides high-definition voice quality for telephony calls, and offers better quality than standard digital telephony. It does so by extending the frequency range of audio signals transmitted over telephone lines, resulting in higher quality speech.
The great advantages of wideband audio, also marketed as high-definition (HD) audio, are:
Offers clearer sound quality

Provides easier voice recognition, even in the presence of background noise, speakerphone, and voice overlapping (two persons speaking at the same time)

Makes certain words easier to understand, such as words containing letters which sound similar
The final result for users is better phone calls, where both the effort required to understand each other and the need for callers to frequently repeat themselves is greatly reduced.
When choosing a wideband codec, close attention must be given to required royalties as well as open source versus non-open source implementations. As shown in the following diagram, most wideband-capable codecs are either not royalty-free or non open-source.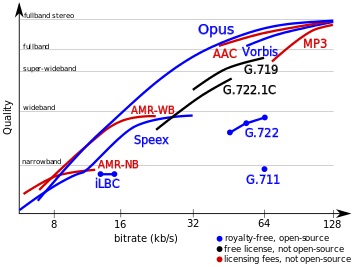 To avoid transcoding, the preference should be given to royalty-free codecs (such as Opus / ISAC / iLBC / G.722 / G.711A-U), since WebRTC does not support codecs which are encumbered by royalties.
Opus is the most versatile wideband codec (capable of easily providing narrowband to full band stereo) since it is actually two codecs bundled as one:
SILK, introduced by Skype, which focuses on low bitrate speech
CELT, which focuses on music and high fidelity
As we see in the diagram below, depending on the available bandwidth, Opus can adjust the way it functions to offer the best possible experience in a conversation or voice conference.

The only visible drawback of Opus is the limited VoIP hardware support because of the high computational requirements. The situation is changing fast, however, with vendors such as Audiocodes and Wildix introducing such hardware.
Whenever Opus cannot be used, G.722 is the safest alternative, thanks to extensive VoIP hardware support including phones and conference stations. Also, some VoIP operators and media gateways have recently added support for G.722.
RTP Sessions Debug
Wireshark offers advanced debugging tools which allow you not only to analyze SIP transaction but also the associated RTP sessions.
Besides checking the statistics it is also possible to simulate different Jitter Buffer sizes and listen to a simulation of what real user can effectively hear during the call.
In case the session is encrypted, statistics can still be checked but audio playback will require decoding using the keys exchanged.

Conclusion
Using codecs such as G.729 is going to reduce quality. Unfortunately, some VoIP operators push to provide trunks supporting only G.729 to reduce bandwidth consumption. Whenever possible it is better to avoid these codecs and invest in better Internet connectivity.
Wideband codecs (such as G.722 or Opus) or codecs offering "toll" quality equal to traditional digital connectivity should be a major goal in your deployment. High-quality phone calls are a necessity to increase productivity and make users happy.
The Opus codec, in particular, has been chosen as the default codec by Chromium and Firefox WebRTC implementations. It offers high-quality audio for calls and conferencing, with the added bonus of using less bandwidth (when bandwidth is a constraint). For example, Wildix supports Opus in our WebRTC powered browser collaboration, mobile apps, and WebRTC-powered Android desk phones.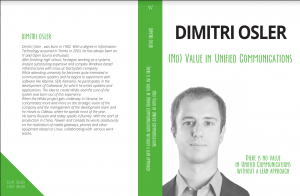 Information request: