Acquiring a solution which supports WebRTC is one of the best investments to improve the way colleagues of a company and customers interact.
WebRTC can bring big advantages but not all WebRTC solutions are equal. In this article we will see what makes them different and which are the most important features we shoud look for when choosing one.
What is WebRTC?
WebRTC is a set of multimedia extensions for browsers which is revolutionizing the way we communicate. It allows to create audio – video sessions, data transfer sessions in point to point mode between browsers (or other applications which respect the standard)
Only?

No. WebRTC is also the latest tech buzz world. As it happened previously with tech buzzwords, or technologies become buzzwords, using the buzzword does not imply using the technology behind it, for example:
Unified Communications, in reality most UC vendors simply glued together different products. The result? A bunch of applications / virtual machines working together to provide a "Unified Experience". In reality the result is a discontinuous and complicated user interface and a system difficult to administer

VoIP / SIP, most products on the market claim to be a VoIP / SIP product when in fact they have only a VoIP extension to connect remote operators

Web Based, the list of products which were called "Web" is long – most of them never used only a browser to work (as the name would suggest). Products like Webex still now require external plugins to be run
As with all these technologies now each PBX / UC vendor on the planet wants to get on the WebRTC wagon. This is the "me too" effect.
See behind the buzzword
Before being tricked into buying one of the "me too" products just for the sake of it let's see what is behind the buzzword and what really makes a WebRTC based Solution stand apart.
Applications
Make sure the WebRTC based product you are choosing really does what you need. Start by seeing your goal, for example:
Do you need a video chat to make conferences with your customers?
Ask yourself, is it integrated with my PBX? Does it allow to share the contents I need?
Do you need a "Online Chat" on your website with your customers?
Does it support video, audio, screen sharing with remote control, file transfer?
Take your time and try the system in real scenarios and make sure that it does what you expect from it. The main goal is to offer customers and users a new and better experience.
Let's see what else is needed.
Network Friendly
Our customers and users will connect from everywhere – airports, hotels, guest networks, restaurants, public hot spots. Most of these network block traffic which is not Web and allow traffic only over port 80 and 443 tcp.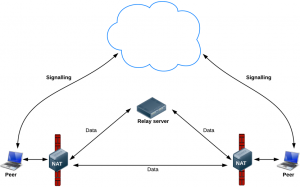 Thus the service provided must work well even when udp traffic is blocked and all tcp services except web are blocked.
Many WebRTC implementations on the market will not work in the above conditions making your investment in them useless. In our experience on average 20 % of the communications with potential customers will be blocked if the WebRTC solution you choose does not implement the tunneling described above.

You cannot take risks – make sure that the WebRTC platform you choose will work in 99 % of cases for your customers.
Integrated
WebRTC is going to become the hearth of any communication system and will take over existing technologies – Mobile calls, PSTN Calls and native applications .
WebRTC support should be built in and integrated inside your UC Solution. WebRTC to VoIP gateways are limited in functionalities by interoperability constraints and always at risk of stopping working.
WebRTC must be integrated inside the UC solution. WebRTC support should not be implemented as an add on or media gateway connected to an existing system.
Support
WebRTC works well but is still being expanded and revised. New Browsers versions might stop working with your WebRTC solution if the solution vendor does not provide updates. Working on interoperability issues is not trivial.
Adding a WebRTC "call" button to a website can be done almost by anybody right now. Keeping it working and making sure that it works in all the conditions above is a completely different story.
Make sure you invest in a solution which is supported by experts in this field and updated regularly.
Conclusions
At Wildix we started working on WebRTC since its inception which allowed us to learn the technology and find applications for it. Thousands of companies are using our WebRTC powered platforms every day to engage better their leads and customers. This makes our infrastructure one of the biggest deployments of WebRTC in the world.
We know for sure that the points above are requirements for a successful WebRTC platform as we worked on them one by one constantly improving our solution and collaborating with the developers community behind WebRTC.
WebRTC is here to stay and change the way we communicate forever.
Feel free to get in touch with us: https://www.wildix.com/contacts/ if you would like to know more about what WebRTC can do for your business.