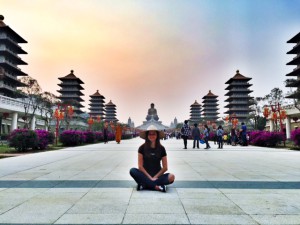 Six months have passed since Wildix employees have started to work from home on Wednesdays.
Everyone is enjoying this experiment.
This initiative was born from my working experience in Taiwan. I will tell you how the story evolved.
I'm the Wildix purchasing manager and to follow closely some of our suppliers and to improve some of our production processes, I've offered the company to spend one year in Taipei.
My plan was ready: I've enrolled to a Chinese language course at the Taiwan National University and I've asked for a work desk at the office of one of suppliers.
Everything ready: August 2014, I'm leaving!
My life in Taiwan has started and here is the first problem: it takes me one hour and a half in the subway to arrive to the office either from the University or from my home. Taipei is a beautiful city and it's organized in a very good way, but it's also quite big (almost 7 millions of inhabitants).
3 hours a day in the subway make 15 hours each week and 60 hours per month!!!
This was my typical day:
morning: University
quick lunch
afternoon at the office and meetings with the suppliers
evening at home, quick dinner, my Chinese homework
bed
I tell myself, I must change something. But what exactly?
I decide to use taxi, it allows me to save 2 hours per day. That was a great solution. But, at the end of the month, it turned out to be too expensive.
The right solution was right in front of me, moreover, I was right inside: my home.
I've got fast Internet connection, I've got a desk and I've got my laptop – my workplace is ready!
I start working from home.
The result was excellent: I save 2 hours per day and the money that I used to pay for the taxi.
I am able to concentrate on my work, I'm more comfortable and calm. But above all, I'm always reachable. I can manage my own time.
And not only. The quality of my life has improved, starting from food: I don't have to eat at the first place that I find on my way. Results? I've lost weight and I've managed to quickly regain my shape.
There remained only one question to ask myself: "Why didn't I start earlier?"
Thanks to Wildix system I am reachable any time and any place, I can work from any location in the world and I can remain in contact with my colleagues, I can decide how to manage my own time. Wildix technology has set me free.
I've shared this experience with my colleagues and this is how the idea of "Wednesday work from home" appeared. And who knows, maybe in the future it won't be only Wednesday?