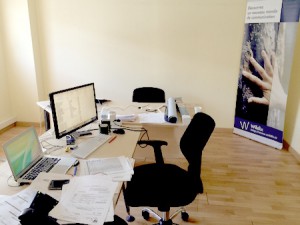 These days I'm working from our branch office in France, in Carcassonne, but for me everything remains the same, as if I were in our Trento office.
How is it possible?
I will share my personal experience.
Last week they offered me to visit our French branch office to make a point of some accounting matters, and I was a bit hesitant, since there is always much work to do and there are deadlines to respect.
But I told myself: isn't it the best way to try our technology?
After three days that I've been working here, I can say that it could not be easier.


The first problem: the software. The problem is easily resolved, since the database is in the cloud, and I can access it from remote locations.
The second problem: communication with colleagues and external people. This problem did not even exist. With Wildix technology I always stay in contact with my colleagues and they can reach me at the same extension number. Also the customers and the banks can contact me by calling the same local Italian phone number as usual.
But the most pleasant thing is that call costs remain the same, no matter if I'm in Italy or in France, allowing me to save a lot.
Wildix allows its employees to work from home on Wednesdays? 
Previously I thought it was impossible, after this experience, I can definitely say that Yes, it's possible.