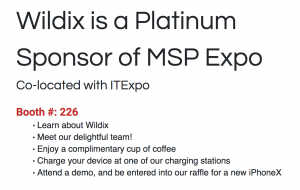 We are very excited to announce that for the first time, Wildix will be exhibiting in the United States – as a platinum sponsor no less! MSP Expo is co-located with IT Expo in Ft. Lauderdale, Florida. As some of you may know, IT Expo is one of the largest remaining communications and technology conferences in the world, while MSP Expo is solely dedicated to helping MSPs network and learn about new, emerging trends in their industry.
At MSP Expo, business owners, buyers, sellers, and resellers will assemble to forge new business partnerships, collaborate and learn together. Dozens of conference sessions, keynotes, and panels will be focused on helping attendees move their businesses forward with communications solutions.
Speaking of conference sessions…

Our CEO, Steve Osler, will be speaking on the topic of Democratization of Enterprise Communications, on 2/14/18 at 11:00am.
The speaking session will cover: How are the latest communications technologies and trends, including WebRTC and communications APIs, enabling any MSP to deliver enterprise-grade communications to small and mid-sized businesses; How any managed service provider can increase its service portfolio and increase ARPU without massive CAPEX?
Join us at MSP Expo
We are looking forward to showcasing our fully browser based communications solution. Wildix was the first to fully integrate WebRTC technology, beginning in 2013. Since then, we have only continued to innovate and improve.
We are excited to meet you at our booth, #226, to receive a demo of our WebRTC browser based communications platform! Learn about Kite, Collaboration, the Cloud, and more! As an added bonus, attend a demo, and be entered into a raffle to win an iPhone X!  
Learn about our dedicated partner program, and all of the benefits available to you. All while enjoying a complimentary cup of coffee, or while charging your device at one of our charging stations.
Reserve your demo slot here: http://www.ucc-show.com/mspexpo