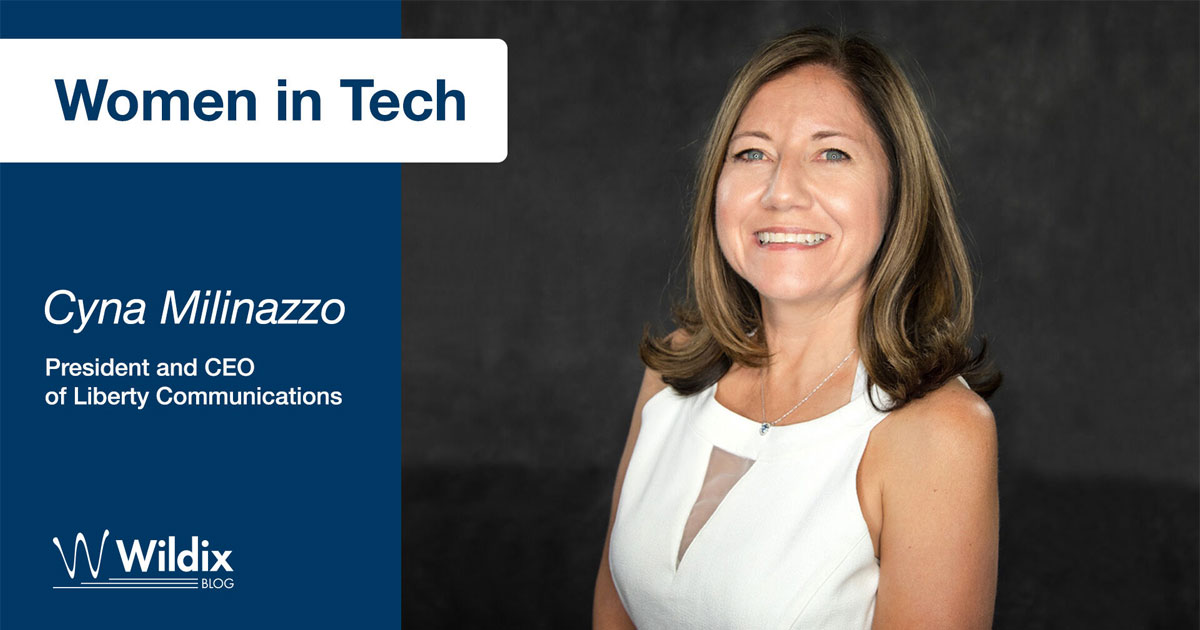 Cyna Milinazzo is the owner of Liberty Communications – a telecom provider in Colorado and proud Wildix partner.
I had the privilege to sit down with her to discuss her background in telecom services, her experience as a woman in the industry, and why she chose to partner with Wildix:
Cyna Milinazzo in Her Own Words
My introduction to the telecom industry came in 1985 when I began my career working for my brother's telecom business. After a few years of managing his office, I expanded my knowledge in the industry by moving on to work for a business that specialized in underground cabling. Unbeknownst to me at the time, the experience I gained from this transition set the stage for pivotal business decisions I would make in the future.
Eventually, I found my way back to working with my family as I partnered with my three brothers to run our own telecom company, which also came with all of the inherent ups and downs of running a family business. Even though I had the least ownership of this company out of all of us, I always treated it as my very own knowing that someday I would love to break out on my own in the telecom industry.
In 2006 when I asked my husband to quit his electrician job and join me in starting a new company, I was thrilled when he actually took me up on my idea!
We created Liberty Electric, specializing in low voltage structured cabling as a subcontractor for many small telecom companies in the Denver Metro area.
Starting a new business wasn't easy – there is always tremendous risk with a startup, and Liberty Electric wasn't even profitable for the first year.
It was a scary time financially as I continued working with my brothers while my independent cabling company grew.
I finally decided to take the leap in 2011 and left the family business to devote all my time to my own company.
In order to incorporate my expertise and provide our customers with comprehensive solutions, I expanded Liberty Electric by bringing in telecom services and updating the company name to Liberty Communications. My business has been flourishing ever since, and I've never looked back!
A year and a half ago when Wildix approached me, at first I didn't see a need to add Wildix to our array of products. It has always been a challenge to gain more market share without losing the "boutique" approach we offer our customers, and I've always been committed to remaining focused on this integral aspect of our business model.
I had begun to notice a shift in the market at that time, though, and I was just starting to realize that I needed to be thinking about ways to differentiate Liberty Communications from others in our field.
Although we have been courted by many different vendors over the years, we've always been very selective about who we decide to take on.
After learning more about Wildix we were confident that you're one of the good ones – I am so happy that Liberty Communications made the decision to add you as a vendor.
I envision Wildix as our vehicle for achieving a leading role in the Colorado market without losing what makes us special.
Being a woman in a traditionally male-dominated workforce has its challenges – finding the right network to move beyond plateaus can be tough. 
Twenty-some years ago it was quite a challenge for a woman to gain respect in male-dominated industries such as IT or construction; today, challenges still exist but are often more subtle.
When starting out in the telecom industry, I let myself be somewhat shielded behind my brothers as I navigated the system and learned invaluable lessons. I've been ignored by owners and contractors, excluded from construction meetings, and dismissed when trying to set sales calls.
After years of persistence, I've gained much more knowledge and distinction in the industry, and am now well known for my expertise and enthusiasm.
I've now been in the industry for so long, other telecom companies contact us for help when they need a hand – everyone in the area knows that Liberty Communications is there to help, without a second thought, and that we deliver quality products and reliable services.
I could have let challenging situations scare me off, but I embrace the fact that some say I'm sort of a "bull-dog" in male-dominated industries.
I even now also own a roofing company serving clients in the Denver Metro area as well. And I'm proud to have developed Liberty Communications as a company of go-getting, powerful women who support and inspire each other to be the best they can be every day.
On top of owning small businesses, I'm a wife, a mom, and a caregiver for my own mother. Finding my work-life balance can be difficult, as it is for many women, but at the end of the day I love to work, and this business is my passion.
I'm living the life I want and am lucky enough to not only have a supportive family circle behind me but to also be surrounded by hard-working, inspiring men and women every day at Liberty Communications.
Update
Since the original publication of this article, Cyna was chosen as one of the 2021 CRN Women of the Channel. With unprecedented circumstances causing massive overhauls in the industry, CRN focused on honoring women who lead their companies through times that were anything but normal.
"During the pandemic, Milinazzo's role was not only to maintain growth goals but provide greater value and application of the company's technologies. She sustained business in the channel and grew it 20% over the previous year."