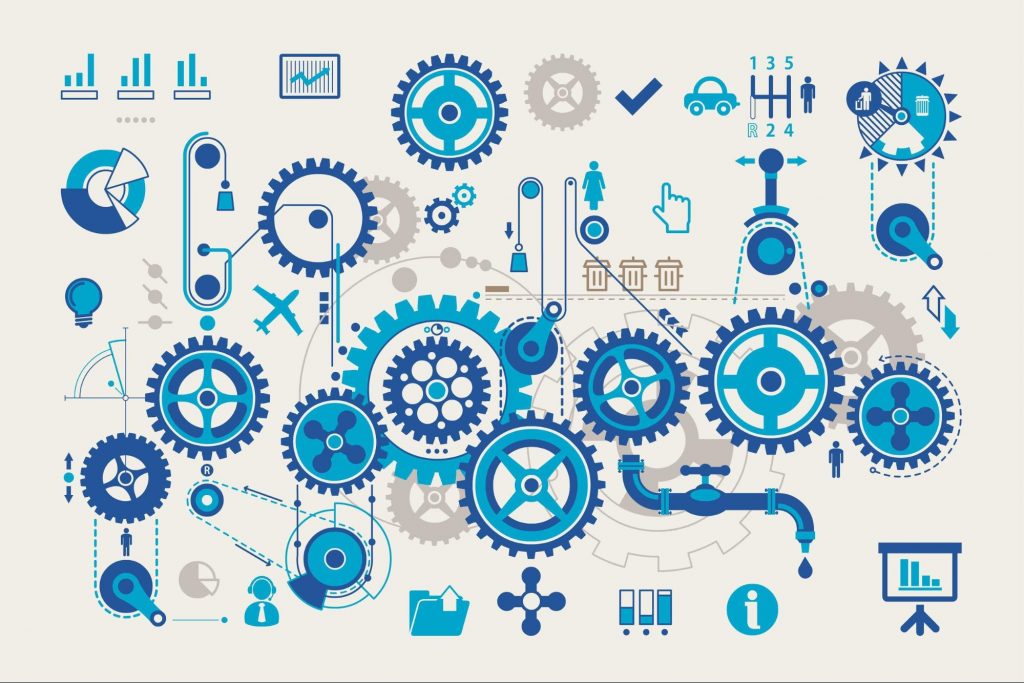 Learn how many of your daily tasks can be automated thanks to Unified Communications
Automation is at the heart of any lean communication system. The more operations we can automate, the less time users and team members spend performing manual operations.
Automation is at the core of any effective marketing campaign.
Let's see which operations can be automated and the advantages of doing so.
Call Generation
Dialing numbers takes time and is error-prone. So, the first thing that a Unified Communication system can do is offer a click2call option when using a software application.

This feature allows a team member to easily dial any number found in an email, website, or phonebook.
In contact centers, entire outbound campaigns can be automated by dialing a list of numbers in the place of team members.
Faxing
Although fax usage is in decline, many organizations still rely on it. Unified Communication solutions, with an integrated fax server, can easily automate the sending and receiving of faxes.
Call / SMS Reminders and Notifications
Additionally, sending reminders to users about upcoming appointments, which is usually done manually by members of the organization, can be automated. Automating this type of task drastically decreases the number of "no shows" for appointments.
The Unified Communication System can automatically send an SMS or call a user and provide the appointment information.
Other usage scenarios include calling a list of contacts in emergency situations to find available persons. The person called can then immediately acknowledge that they have received the message.
IVR, ASR, and TTS
IVR (Interactive Voice Response) can help automate secretarial services by routing calls to the correct departments and by providing information and services to callers.
ASR (Speech Recognition) and TTS (Text-To-Speech) can bring IVR to a new level by offering an easier and richer experience to users.
Login Automation
Single Sign-On (SSO) and Users DB Synchronization can also greatly simplify access to the new Unified Communication platform and to all the associated tools.
Instead of remembering multiple logins and passwords, the user can simply use their email credentials to log in to multiple platforms, including the Collaboration Tool.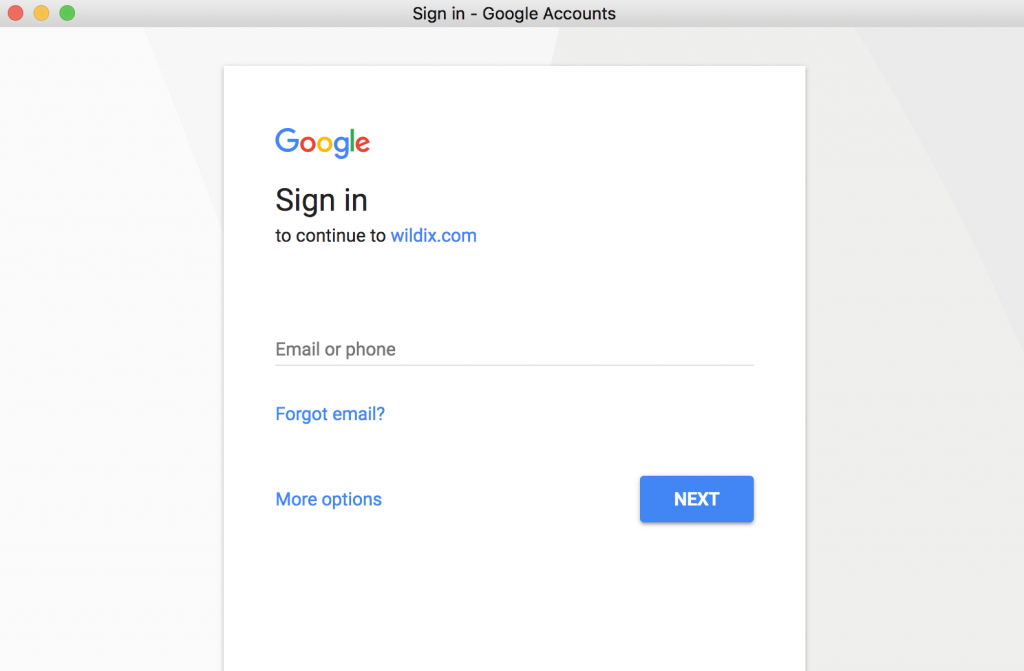 Automated Deployment
Additionally, the deployment of the system can be automated by using provisioning tools that perform auto-configuration and firmware upgrades for the connected devices.
Tools such as these can save many minutes of manual configuration for each device. For example, during an installation involving hundreds of phones, the total configuration time can quickly add up to many hours and full working days.
Call / Chat Queueing and Routing
As we saw in the previous section, ideally a team member should always be available when a customer tries to make contact. As this is not always possible, the Unified Communication system must support a smart queueing system that is capable of:
Forwarding the call / chat to the most skilled operator (skill-based routing).

Forwarding the call / chat to the account manager for the specific user.

Providing extra information, such as expected waiting time.

Allowing options, like leaving a message, if the wait is too long.

Automatically informing the caller of working hours.
The team is a limited and expensive resource so:
As much information and services as possible must be available without team intervention.

Clever and respectful queuing must be put in place for all requests.
The team's roaming and presence (availability) is, by itself, such an important category that it deserves a section of its own.
Automatic Call Forwarding on Presence Status Change
Instead of asking team members to perform repetitive operations, like setting call forwarding options when they are not available (in a meeting, out of the office, etc.), a Unified Communications system should provide them with an opportunity to set up call forwarding rules based on their user status.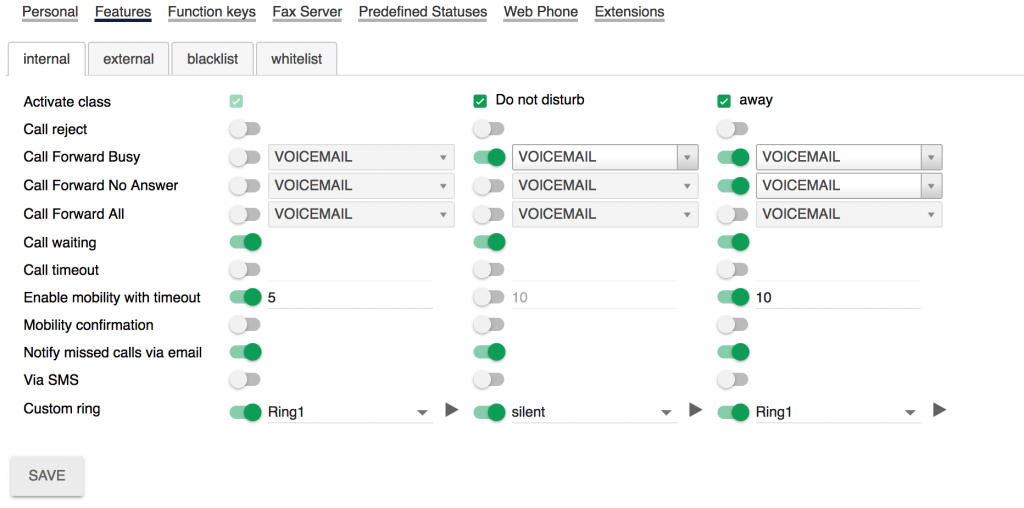 A Unified Communications system should thus be capable of manage incoming calls depending on user availability. And since the team member's status can be read from their calendar, all that is needed is a calendar that correctly reports all daily appointments.
Mobility
A new Unified Communication system must offer flexible solutions to mobile team members, as more and more people either travel regularly or work remotely.
Team members who travel regularly to meet customers, colleagues, and visit remote locations can take advantage of the many collaboration solutions we saw in this blog article and in the previous one, and can efficiently attend and perform meetings over the Internet.
Team members working remotely can take advantage of the same tools to ensure that their work performance is just as efficient, if not more efficient, than if they were in the office.
All the tools we previously discussed, such as chat, geolocation, availability, and conferences, must also be available to these users.
Moreover, these other technologies are necessary:
Account roaming over different offices / countries

Collaboration for multi-device support (computer, tablet, smartphone, etc.)

Multi-ring devices (desk phone, mobile phone, smartphone app, computer, etc.)
Smart forwarding, depending on status options, is really useful in these scenarios. Account roaming is important; it allows the user to keep the same extension number and Unified Communication account credentials over a network of interconnected UC systems.
In the next blog article we will talk about re-using data and information already entered in other systems, such as phonebooks or users imported from a CRM to a team directory, as a source of automation.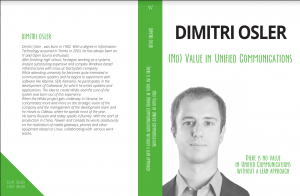 Information request: