In this post we will see how to build a Geo Distributed Dect Network with up to 1000 users and full Roaming – with the following list of features:
up to 255 offices connected / base stations – 1000 handset / users in one dect network
redundant – all offices base stations are autonomous
roaming – users can roam over all base stations / offices and
user sign-on / hot desking
centralized phonebook with presence
Let's now see in detail how this is possible.
Numbers
up to 1000 handsets / users roaming over the network
up to 255 remote offices / base stations
each handset / user can roam on up to 10 networks (to reach a global roaming over up to 2550 offices / base stations)
This is why Wildix W-AIR is being chosen by businesses of any size to create private Wireless Voice Networks.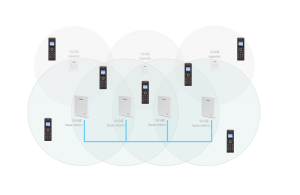 Redundant
Thanks to WMS Network up to 500 PBXs – HW, VM or Cloud PBXs – connect together and create a peer to peer Telephony network which is secure, synchronized.
The base stations of the dect network can be connected to any one of the PBX (with a secondary one as failover) and work even in case internet is not available.
The handsets information is shared via IP service over the dect gateways network.
Roaming / User Sign-On
Users can roam all over the base stations preserving their user phone number. When the user oves between an office and the other, the location is automatically updated and her personal settings (forwards, call management rules) retrieved.
The users do not need the help of an administrator to start using an handset, the sign-on require to enter via IVR the phone number and personal pin code.
It is easy to share the phone between many users as sign-on / sign-off operators require just a few seconds.
User Activity Logging
Sign-on / off from the system are stored and can be integrated with accounting systems to to control the users activity and location over time. The data collected can be used to prepare wages and document users movement over the system.
Boundless Connectivity
Besides belonging to a highly reachable Wireless Audio Network – users connected to the dect system are able to receive calls from all other terminals connected to the network, trunks and even WebRTC Empowered Customers (via Wildix Kite) and Colleagues.
What and where to buy?
To use the above features the W-AIR BASE or W-AIR BASE OUTDOOR (for extreme environment) are needed, all handsets W-AIR 70 / 100 / 150 are supported. Please fine more information here: https://www.wildix.com/w-air-cordless-phone/. Feel free to contact us at info@wildix.com or refer to the nearest Wildix partner to receive more information.