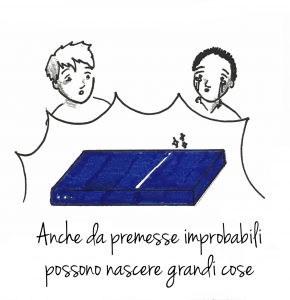 Such will, such educational preparation, such effort: Dimitri and Stefano design their own PBX.
They elaborate the Asterisk project, they dissect it, they "mess with it", as is done with mopeds, but the risk of engine meltdown was always lurking.
Not much time goes by and the Osler brothers notice that those systems were unstable and that they would not get very far with those technological preconditions.

Yes, they made the phones work, but any operation which was more complex would compromise the entire system.
(Only for the most expert: this had to do with Asterisk systems installed on Linux Servers. There were many problems, the disk would fill up, a virus would pop up, a hacker, not even much of an expert, and the system would be infected)
So, like with cooking, in order to make the perfect cake, at a certain point, you need to rip up all of the recipes and then proceed in steps, in order to learn how to make it, the Osler brothers decided that they would have developed an all new "engine", made completely by them and for their PBX, permanently abandoning Asterisk.
(Only for the most expert: They began working on CallWeaver, which is a project by a former software developer from Siemens who worked in Silicon Valley as a researcher and had added the SS7 stack to Asterisk, in order to be able to communicate with a public telephone exchanges. But Asterisk was so unstable that it was unable to work as a public telephone exchange and so, together with a researcher from Texas Instruments, he created an Asterisk fork, calling it CallWeaver. Stefano and Dimitri came into contact with the two. A tight collaboration on the project begins. The Wildix PBX architecture will be based on this development.)

They go in search of a microprocessor which will act as a mini-server and want to place the telephone interface cards in the system, something which was not yet available on the market.
(to put it simply, they wanted to manage all the telephones of all the offices of a company, directly from the PBX, without having to go from desk to desk configuring them for each user).
But immediately a problem comes up.
An architect can design an Auditorium inside a crystal sphere suspended on a pool of liquid mercury… but he then needs to find a team of engineers who will actually realize it.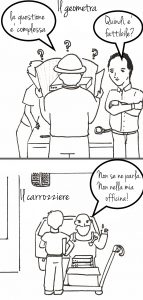 The problem is: where should these cards be placed? We need a frame.
Stefano immediately comes up with an idea: "let's ask the surveyor who works for StarSystem and who is also familiar with 3D design!"
The project is complex but possible: Ask the surveyor to design the "box" where all this "stuff" is to be inserted, then have a client of theirs, who deals specifically with working sheets of metal, cut out and shape the metal, and Zanei, their trusted body shop mechanic, would then paint it.
If they had been able to convince him.
Trentino Alto Adige is a wonderful region, with breathtaking landscapes, and the wonderful peaks of the Dolomites, UNESCO world heritage site, but it is also known for something else: the roughness of its inhabitants.
The more the valleys are penetrated, the more this roughness increases excessively.
"No, no, it is not possible… l cannot have the kiln occupied for 'boxes', not to mention the fact that the paint will not adhere to that metal!"
Zanei, the body shop mechanic, does not welcome Stefano and Dimitri's request with smiles and enthusiasm. All he knew was car body work, any other use of his kiln was considered heresy.
And yet after a lengthy "wooing" (since the money available alone was not enough to constitute a good enough incentive), Zanei agrees and the first 60 PBXs are designed, cut out, painted, assembled and installed.
And, once the first one was done, he becomes so impassioned that he will paint PBXs for 3 more years.
The fairytale has begun. But more than a fairytale it immediately proves to be an epic, complete with a clash among titans.
The product, in fact, is not stable, it requires much work both on the Hardware side (mechanical and electronic components of the 'box') and on the Software side, therefore a great deal of programming.
In the course of the first year they sell 100 PBXs.
Each has problems and the only technician able to do something is Dimitri: his time is completely filled with resolving the problems of the first clients and the project is unable to grow, unable to mature.
This is the great problem of those who, in the world of telecommunications (and the information technology sector in general), start from an "open" project and handle single installations.
If you are able to create one, good, but you have to follow it over time, the second one you can follow, the third you let wait a little longer because you are still following the first and the second. Once you reach 100, the technician is always busy keeping the systems working and carrying out changes to the configuration requested by the clients. Just adding technicians to resolve the problems of the clients is not a good strategy.
The solution to this problem is to best develop the product before installing it, to avoid it having problems, so as to unburden technical support and to lead to the sale of the product on a much wider scale, perhaps even abroad.

This is Dimitri and Stefano's idea. Of course, achieving this requires a great deal of money, which they naturally do not have. But intuition and a pinch of luck come to their aid.
A tidbit: In the beginning the PBX was black, an elegant color with less variety in shades, therefore easier to reproduce.
In 2006, the Osler brothers decide to use the color blue, a color which simulates peace and security, it is the color of technology, of the uniforms of police officers, of royal blood, of melancholy music.
With the color chosen, it was then necessary to choose a name.
To be continued…