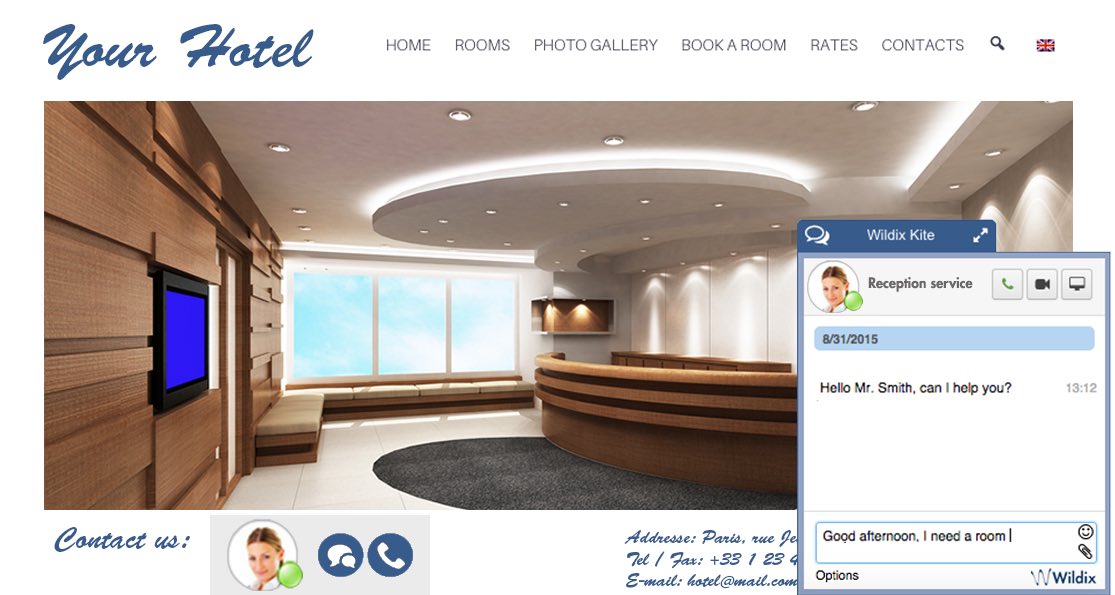 Shopping online these days, you're likely to see a lot of fresh communication features. In particular, chatbots, messaging boxes and "call an agent" popups now abound on digital storefronts.
Just based on these trends, it's clear that people expect more than a barebones "Contact Us" page. But maybe that shouldn't come as a surprise. Increasingly, customers want immediate gratification when they interact with companies. So you should also expect them to want their questions answered quickly, without the wait time of email or an external call. Stepping in to solve that issue are live chat services. When properly implemented, these tools give customers a way to connect with a company representative for instant insight and information.
Wildix Kite, a WebRTC tool capable of full PBX integration, is one tool leading the way in this platform shift, thanks in particular to how it seamlessly fits into web pages instead of prompting users to join the chat on a different app.
That seamless integration is important to any chat tool, not just because it creates a cleaner aesthetic, but also because it provides an uninterrupted site experience. One particular thing customers love about live chat is how it doesn't divert their attention to a separate tab or phone conversation; instead, it allows them to browse while getting their problems or inquiries addressed.
The convenience and streamlined simplicity of instant messaging on company sites is quickly winning support, too. Consider, for example, that:
Taking these figures into account, it becomes apparent that another benefit of live chat is you don't even have to convince customers to start using it. The fact is, they already want to make use of instant messaging, right when they click onto your site.
The caveat here, though, is that you should view live chat as a customer expectation rather than an added bonus for your site. According to one study, a whopping 67% of B2C companies and 66% of B2B companies already use live chat for customer service; in the context of sales usage, those figures go up to a 74% use rate for B2C, and 85% for B2B. In other words, if you haven't added a chat feature on your site, now's the perfect time to implement one.
And considering that Kite features all those services, complete with the added bonus of voice and video call options, Wildix is an especially compelling provider of that investment.
The fact is, even on digital storefronts, consumers want the same 1-on-1 care and attention they'd get at a brick-and-mortar shop. A live chat function lets your company's representatives provide that attention right when site visitors ask for it, all without holding up their browsing experience.
Because to keep your customers around, you'll want to keep them talking to you. And with live chat, it's easier than ever to encourage them to do exactly that.