Learn how real-time features can streamline and simplify your business communication and processes and improve the customer experience.
Consider the following example of a mail exchange: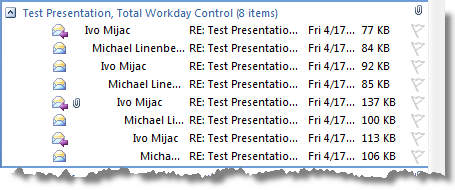 Look familiar?
In most organizations, users are forced to use email for communication. Conversations are carried out over a series of replies, forwards, and CCs, involving an ever-expanding chain of people. There is no simple way for a customer to get in touch with the organization by means of a chat session, which could possibly be upgraded to a phone call, video call, or chat conference.
In many organizations, the team keeps using email to exchange information that should really be shared in real-time to be effective.
From a customer perspective, real-time communication (chat, calls, and conferences) is clearly better. The question is whether it is also better for the organization.
The answer is yes. It allows the organization to achieve more in less time. It also prevents misunderstandings, and as the customer gets a better service, the team will achieve better results.
Of course, there are a few limitations:
Human resources (people) are limited

Processes might be not optimized, leading to overuse of these human resources
If the team is overloaded by real-time communications, the time needed to reply will go up. Management often reacts to this overload by creating queues of incoming emails, leads, and calls. Is this a real solution?
By themselves, queues get longer and make the service experience worse.
A unified communication solution can solve these problems. Now let's see now how different features can help us simplify communication.
Presence and Chat
When contacting an organization, most users will first check the organization's website to see the contact options available. Typically, these include a phone number (with working hours) and an email address.
Modern Unified Communication (UC) systems now can offer much more. They can show, in real-time, whether or not someone is available. They also allow the user to start a chat session, which can become an audio or video session right from the organization's website.
By offering a list of organizational units or people inside the company, the website allows visitors to find the right contact by themselves.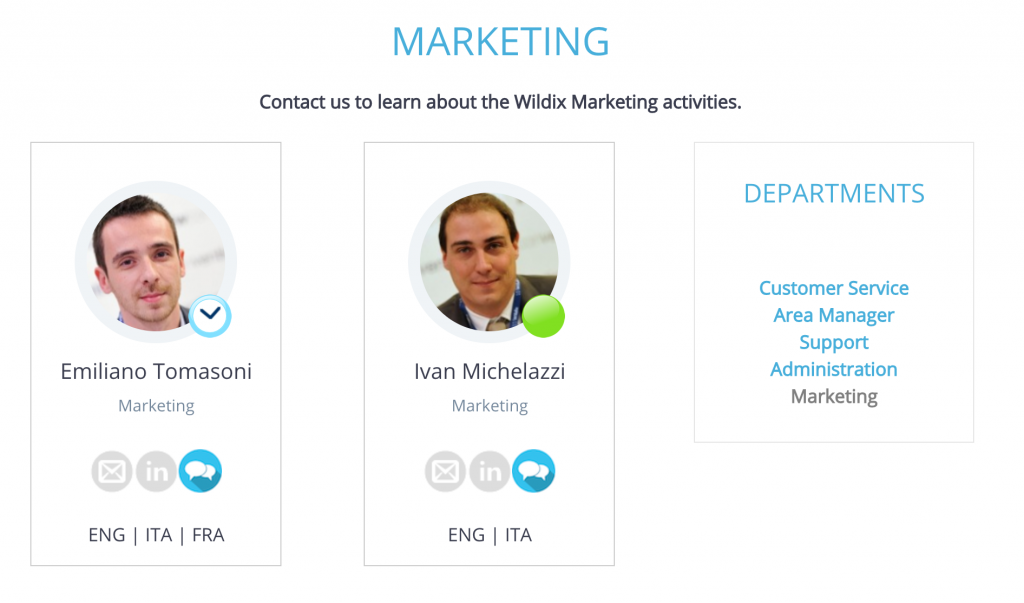 This is achieved by maintaining a basic and extended presence. A website can show the status (busy, DND, available, away, etc.) of the team members, including their phone status. Preferably the presence would be extended with a status message that indicates how long the team member will be busy.
A returning customer can then automatically get in touch with the team member who served them the first time.
Within any organization, a lot of time is wasted asking team members whether they are currently available, or writing and replying to emails which, if converted to a chat session, would require much less time.
Presence and Calendar Sync
Presence is a very useful tool, and its settings can be easily automated. How? By using a calendar.
Most team members already indicate upcoming meetings, working hours, vacations, holidays, etc., in their calendar. A smart Unified Communication system must use this information to automatically change the availability (presence) of the user.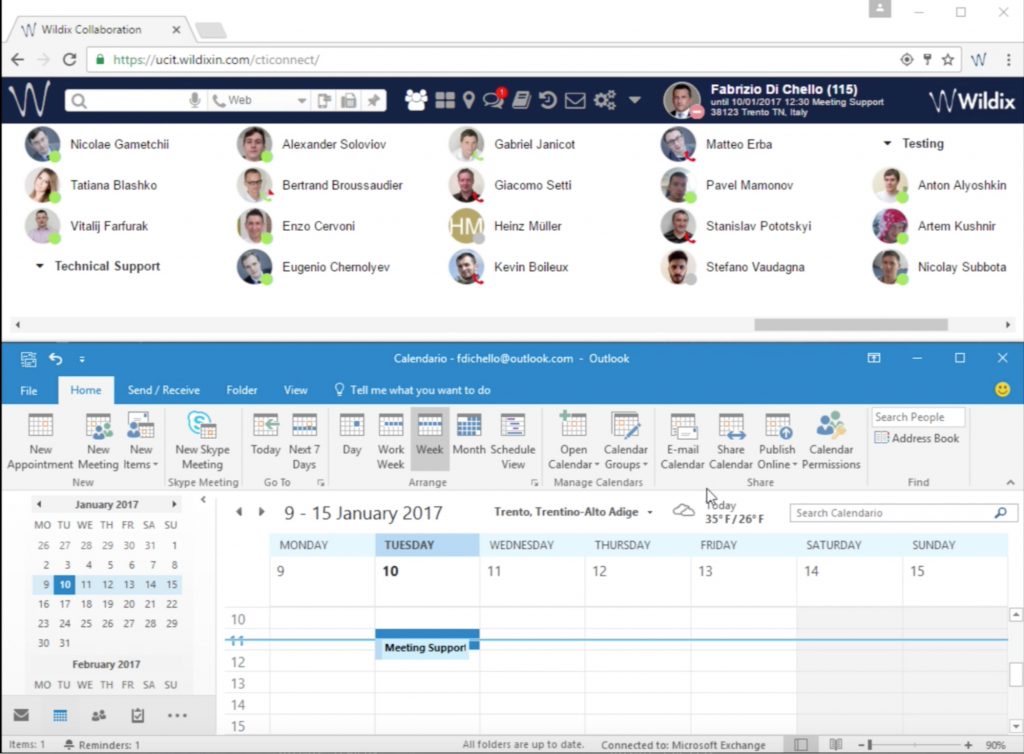 Presence information can also be used to route incoming calls to a user, thus automating the call forward management based on the user's status.
Queue Audio Notifications
In a retail shop or public office, a customer has a clear perception of the queue of customers in front of them. The customer can easily see the number of team members working on the queue, the size of the queue, and can quickly calculate the time needed to reach the top of the queue.
In communication systems, the status of queues and team members are hidden from the customer, unless the customer is informed during the call.
The customer, when calling the company, must know immediately if the team is available. If the team is not available, or if a call cannot be processed fast enough, the customer's precious time is being wasted. In this scenario, the customer must be informed of the delay and given the option to provide contact details (allowing him/her to be contacted later).
Thus, during a phone call, the user must know how much time, on average, they must wait before receiving an answer. If the time is too long, the system itself should inform the caller and offer the option of leaving a voicemail message or requesting a callback, which will allow the team to contact the customer later.
Geolocation
The service provided by many organizations is strictly tied to location. Let's consider, for example, a service like Uber. With Uber, the location of each driver, together with their availability, is vital to provide a quality service to customers. The same is true for a delivery or on-site support service.
In these cases, the geolocation of every single team member becomes very useful information; information which must be added to a website, together with presence status (availability).
The information can be made visible to the team handling the customer requests or directly to customers themselves (on the website).
Inside an organization, geolocation is a very useful tool. Knowing–without asking–where each person is located is extremely helpful, especially in organizations where team members work remotely, often visit customers, or roam between offices. When team members are in different time zones, the location information allows them to contact others at an appropriate time of the day.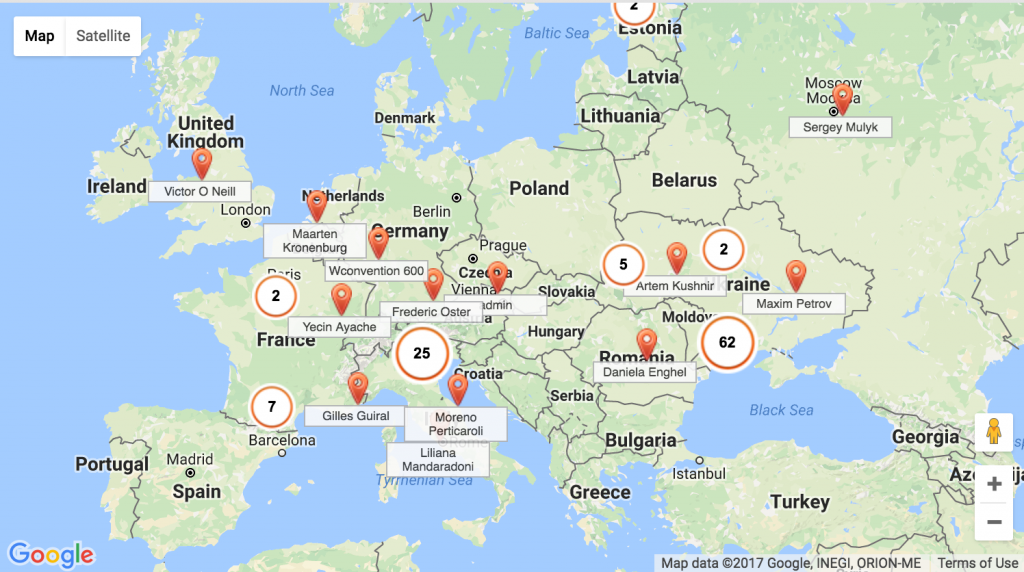 File Sharing
Many companies still fill their mailboxes with transferred files and, in particular, with multiple revisions of documents.
A unified communication system must provide a way to transfer files in real-time between team members and between users and team members. Moving file transfer to a real-time protocol greatly increases business opportunities. With these technologies, a website visitor can immediately receive an offer or specific documentation, instead of waiting for an email.
Immediate file sharing also allows the company to bypass the annoying restrictions of mail servers including file size and file extensions (.zip and .exe files are usually not allowed).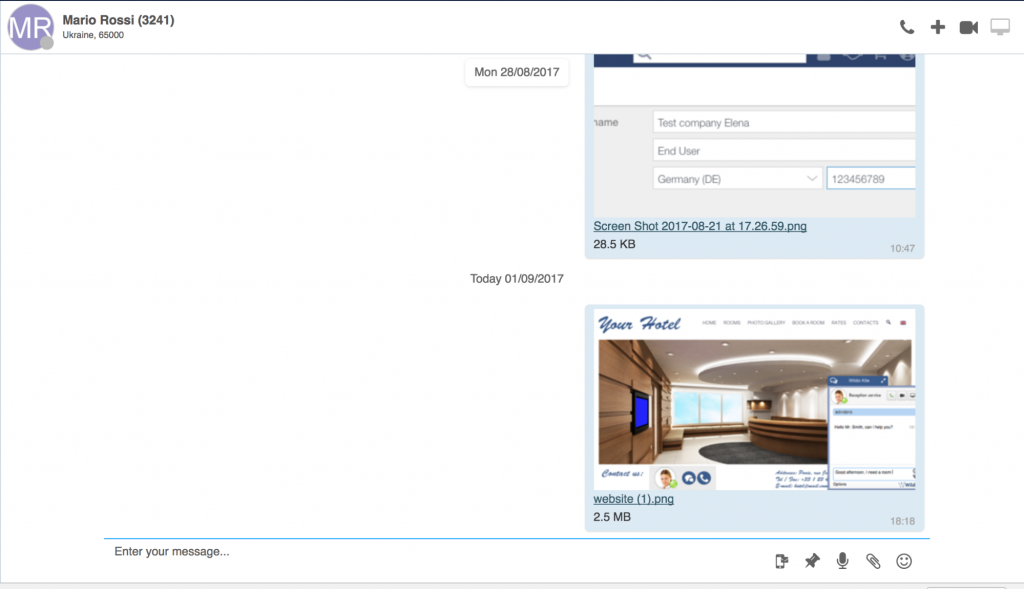 Online collaboration tools (such as Google Docs and Office 365) further simplify the management of document revisions, and allow team members to both download copies of the documents and work on them simultaneously.
Screen Sharing
Support and sales teams need more options to quickly share content with users. Screen sharing is a great tool for making online presentations to potential customers.
Support teams can also use it to provide real-time assistance to customers.
Screen sharing is not something new, but unfortunately its usage is often complicated by both technical and human difficulties in getting the communication started. Typical scenario:
"..conversation ongoing..
T: Now please go to the website teamviewer.com and download the application.
C: Where?
T: T-e-a-m-v-i-e-w-e-r.com.
C: Ok, I am opening it, and then?
T: Go to the download area.
C: Sorry, I cannot find it…  wait… ok, downloading.
T: Downloaded?
C: Yes, now what should I do?
..
Installation performed
..
T: Now give me the codes you see on your screen.
C: 1321…
T: I cannot connect…
C: My mistake, one more 1 at the end.
T: OK, seems to be connecting, Wait, I need to update the version of my TeamViewer.
..
Updated
..
C: Looks like your client is disconnected.
T: Yes, free license limitation."
I imagine that most of you have been through this situation, either as a customer/user or as a team member providing support.
The solution is to have screen sharing completely integrated inside the UC platform. The solution should also allow for remote control. The activation of a session must be as easy as possible, ideally from within a chat session or website, with a single click starting a screen sharing session, instead of requiring the user to visit other websites.
Inside an organization, screen sharing should become the substitute to visiting your colleague's desk to perform activities like:
Providing support on a computer

Seeing the latest revision of a document

Attending a presentation
All of these activities require just a few seconds over screen sharing, and are possible even when the team members and customers are not physically close to each other.
Video Calls
Video is another media which, like screen sharing and file sharing, allows companies to reach their goals more quickly. Besides being much more engaging than a simple phone call, a video session allows the company to show details via the camera, such as defects in a product or sample ideas.
Conferences
The latest and most significant simplification in communication tools within an organization is the possibility of attending virtual conferences.
Similar to screen sharing sessions, the key factor is ease-of-use.
It should be possible to upgrade an ongoing audio call or chat session between team members, or between a customer and team member, to a conference involving more people. Additionally, the conference must immediately support all the following media to be effective:
Screen sharing

Video calls

Chat and presence
Conferencing offers efficient communication with team members and users outside the organization and allows you to simplify decision making.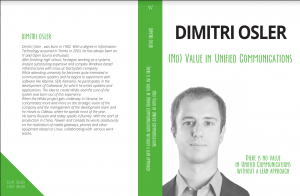 Information request: