Alarm Clock Service, Check in / out, Room Calls Billing integrated with the PBX and Web Based? Integration with Web and Windows based PMS softwares? Yes, it is possible.
Three new important WebAPI extensions are available from this week. Wildix mission is to create collaborations with companies which already provide PMS and Hotel softwares, the api we added are the following:
alarm clock api
dialplan DB PBX api
cdr output api
these api allow the integration of Wildix PBXs with any software with a minimal effort. The extensions are released together with a complete Web app which shows the potential of the apis and which allows to:
 check-in / check-out rooms and perform outgoing call block when the room is in status vacant
 alarm clocks for multiple days
 view of calls generated by each room and price analysis
This web application is completely open source. Thus it is simple to modify, add features and rebrand it. This app substitutes the previous version WMS per Hotel. Here it is a preview: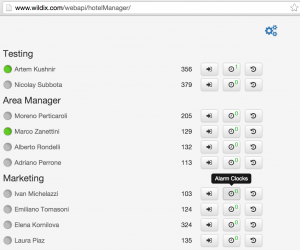 To try the new app you should update your WMS version to 3.80 and add a dial plan as in the example provided.
The sample app is available here: http://www.wildix.com/webapi/hotelManager/.
We wait for your comments 😉 Ther will be soon more updates regarding new extensions to our FIAS protocol support.