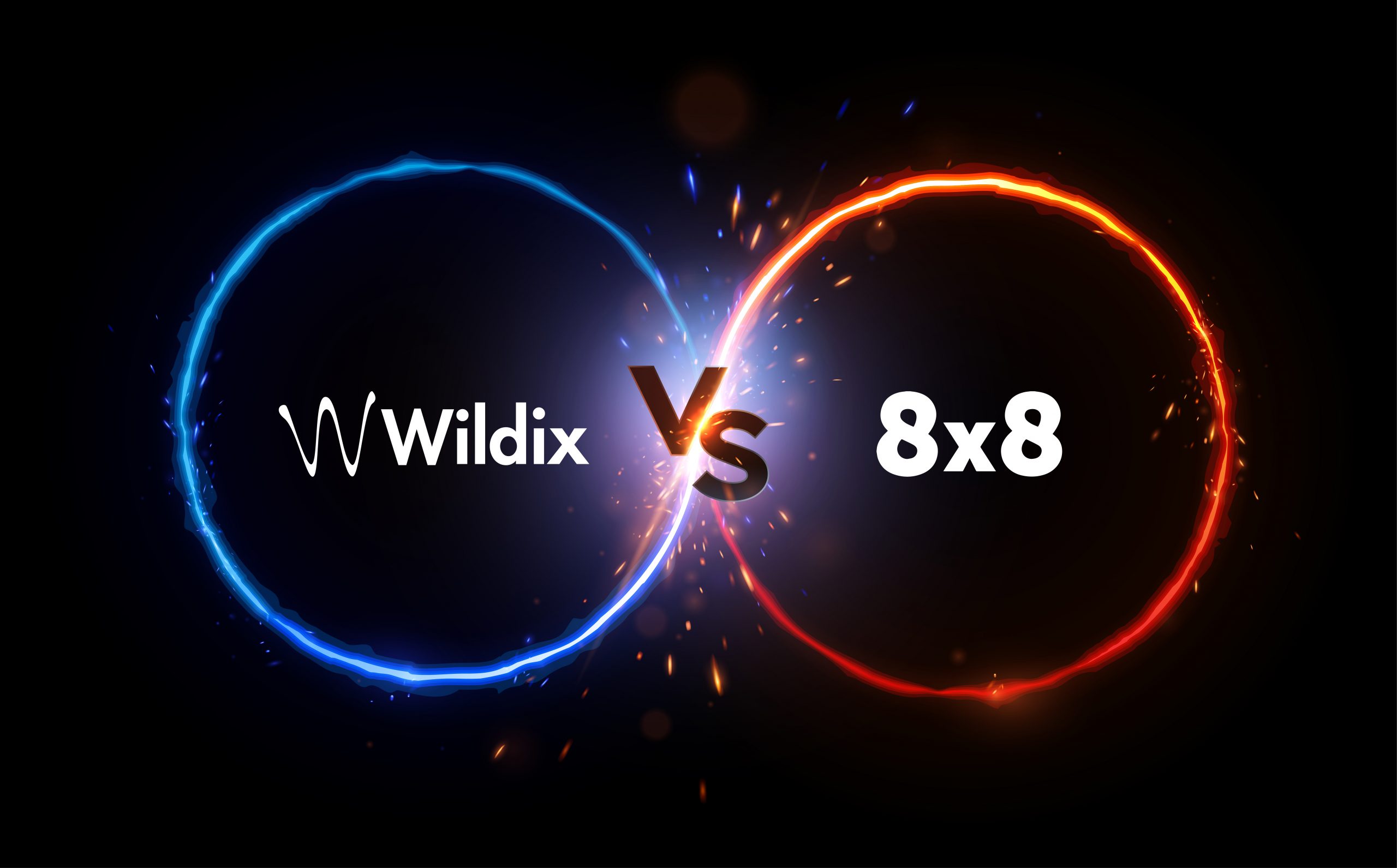 Comparing reliability and support
When features appear nearly identical, it's often tempting for businesses to select their UCC platform primarily on brand recognition. And although it isn't as if being a well known brand makes a solution better for business needs, this is often the reason that drives enterprises to select the VoIP solution 8×8.
However, although branding matters, and although price should factor into budgeting, the most important thing for any business to examine when choosing a solution is the ROI and ease of use they can expect from it. As a result, anyone considering 8×8 should keep in mind what value they actually deliver, and what they can expect from competitors instead.
To examine this issue in detail, let's walk through what exactly 8×8 offers businesses in need of a unified communications solution, and what Wildix can offer in comparison.
An overview of 8×8 gives us a useful, if rudimentary, set of features. In addition to the expected unlimited calling, texting and faxing, any 8×8 license will net users functions such as:
Voicemail transcription
Call recording
Music on hold
Ring groups
Call monitoring
Caller ID
Call blocking
Call queues
These features are certainly useful within nearly any business context, and ought to be included in any enterprise-grade communications package. The problem is that a standard 8×8 VoIP system provides effectively no functions in addition to this standard set.
While Wildix provides features such as post-it notes, call-me-back notices and even a built-in webinar platform, 8×8 exhibits few features outside the basic VoIP functions. Reports of the system typically focus on these standard lists, but beyond them, there is little to mention.
To fill out that list of features, 8×8 now also offers the recently developed 8×8 Meet, which includes company chats and videoconferences, both of which can function in the browser or through a mobile app.
While this general usability is in some ways on par with Wildix, which features in-browser videoconferences and its own dedicated mobile app, limitations still appear when comparing it to 8×8. Most notable is the fact that 8×8 videoconferences cap out at 100 participants, whereas Wildix conferences have no upper limit. 8×8 Meet also lacks support for other more notable features Wildix includes, such as "raise your hand" or collaborative whiteboard use.
A similar difference in upper limits can be found when comparing international calling. 8×8 provides VoIP calling to a total of 120 countries, yet this full number is available only through the top three licenses for the solution, while the rest (aside from the entry-level Express license) provide only calls to a more limited number.
Meanwhile, with Wildix, international calls can be sent to and received from a total of 133 countries using CLASSOUND, a service that can be added onto any user plan.
Important in considering an 8×8 installation is not just the advertised features set, but the actual implementation of the system.
Should stability of the system or knowledge over it become an issue, businesses may have to rely primarily on their own internal IT department, as customer support from 8×8 is often panned. User reviews often cite long response times, unknowledgable staff and little effort in resolving the issue.
These problems are also frequently reported from end-users who have switched from 8×8 to Wildix, as reported by Stephen Meadows, CSO for the Wildix Partner Ohiya Networks.
"Their customer service is probably the number one reason why I've been able to take users from them so easily," Mr. Meadows said of selling the Wildix system to 8×8 customers. "The people that I've dealt with, they have tried to get their 8×8 chat tool or mobile app working, but they have a lot of trouble with that. Even some of their call forwarding stuff seems to be kind of a pain. And when they call in for support on that, they just don't get assisted.
"No one that I have called had a fire that I needed to put out," he reported, "but they did have ongoing support issues and tickets that never got fixed. So if you were to reach out to 8×8 and ask about your auto attendant, you might not even hear back from them. And if you do, who you'll hear from won't be the best possible person to help you."
Regarding training, Mr. Meadows mentioned:
"I've had a lot of customers or even prospects that had the same issue that I had when I bought 8×8, as far as not being able to use the platform because there's not really any training on it at all, from what I can tell."
This marks a stark difference between the 8×8 methodology and that of Wildix, as in Wildix's case training is required for all signed Partners and additional help is readily available through on-call staff or ample online documentation, as well as an e-learning platform. Although 8×8 does provide online help through an e-learning platform, in-person assistance is less available.
A common result of this lack of training and sparse support is little actual use of the 8×8 system afterward. Not knowing how to use it and not sure if experienced problems will be fixed, staff end up simply abandoning the system entirely, rendering it useless to the company.
With regard to overall flexibility of the system, 8×8 also appears to have issues, as the full usability of the system is tied to a total of seven licensing plans without much room to work outside the listed capabilities. Should an end-user need to change or suspend 8×8 licenses, user reports again note difficulties in accomplishing the alteration, or else facing upcharges for initiating the process.
Wildix, on the other hand, is structured for flexibility, with four simple licenses and a system built for more widespread integrations, including doorphones and similar IoT technologies. In terms of both paying for only what you need from technology providers (in keeping with OPEX spending principles) and adapting a system to fit your particular situation, Wildix wins on both fronts.
Stacked side by side, Wildix and 8×8 may look similar,but it's important to consider the nuances of both systems when considering which to choose.
Looking purely at feature sets, 8×8 and Wildix deliver seemingly the same functionalities from a dedicated phone, desktop computer or smartphone. However, in terms of function, Wildix has more capabilities delivered through a straightforward licensing plan.
Of course, this comparison is only when you consider features. When you begin to consider using the solution as a whole, more questions arise. Once using the solution, will you have access to any initial training? Will there be experts on call to address later issues? Will there be a dedicated support team to assist in case of emergencies?
Simply put, if the risk of having little to no training on a system — not to mention a general lack of upkeep — outweighs the draw of a relatively low-cost initial license, 8×8 isn't your best bet.
Wildix
8×8
VoIP features

Voicemail transcription
Call recording
Ring groups
Call monitoring
Caller ID
Call blocking
Call queues
Phonebook on phones
Fax machines and FXS devices
Doorphone integration
LDAP / Active Directory / Google apps / Office 365 authentication
Timetables

Voicemail transcription
Call recording
Ring groups
Call monitoring
Caller ID
Call blocking
Call queues

Collaboration tool features

Click to Dial / Call Pop-Up
Mobile client
Presence setting
Live presence in Phonebook
Fax server for all users
Chat
Post-it sharing
File transfer
Desktop sharing
WebRTC videoconferencing
SMS sending and receiving

Click to Dial for Outlook (Windows-installed PC version only, not Cloud version)
Mobile client
Presence detection
Internet fax
Chat
File transfer
Desktop sharing
Videoconferencing
SMS sending

Licensing
4 licenses total
7 licenses total
Training
Available through Wildix-trained MSPs, online documentation, video library and e-learning platform
Available through e-learning platform only
Call Coverage
133 countries (all available through CLASSOUND)
120 countries (not all available through Express, X2, X3 or X4 licenses)
Support
Available through certified Partners, who have 24/7 access to Wildix experts
Available through 8×8 directly, quality of service and response time inconsistent