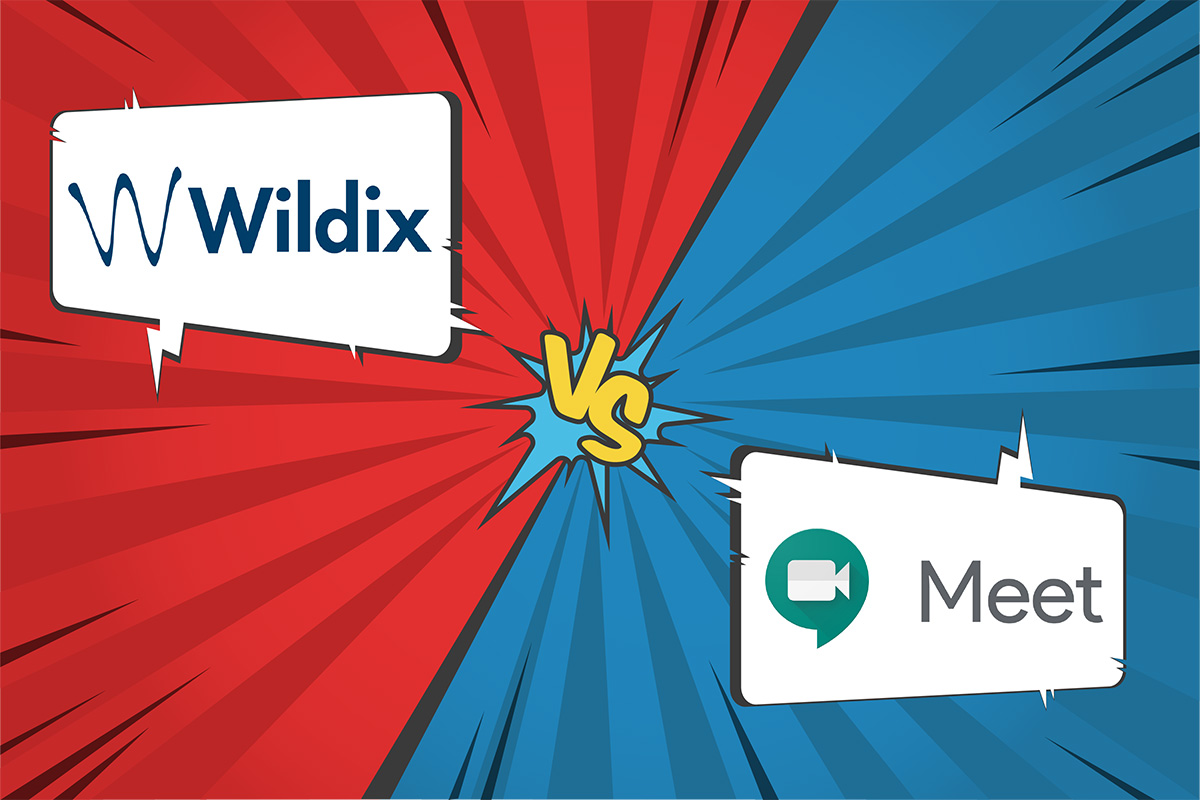 In a world that's already spent months on end having to meet one another virtually, it's no surprise that there are boundless freemium videoconferencing products available on the market.
We already looked at the biggest of these freemium options, Zoom, and discussed why its poor optimization and lack of security make it a mediocre choice for enterprise use. Now, it's time to examine another major up-and-coming name in the freemium space: Google Meet.
If you use nearly any Google product, from Gmail to their search engine, it's hard not to have heard of Meet by now. Previously an exclusively paid service, Meet now has a free option, no doubt making it a tempting service for those in need of a video solution.
So, just how effective is this video solution — and how well does it stack up against Wildix?
Comparing Features
Easily the best way of comparing these two products is to simply examine them in terms of features. Let's have a look at how the both of them measure up now.
1. Video
Obviously, the biggest draw to Google Meet is the feature that it most heavily advertises: its videoconferencing. From an initial look at this feature, it appears competent enough, as one would expect from a Google product.
However, Wildix has several notable differences compared to Meet in terms of video.
First, whereas Wildix automatically adjusts the quality of your video output to match your internet speed, Meet sets your video quality at the standard resolution of 360p. To bump the quality up to HD in Meet, you have to manually adjust your camera settings.
Second, when using the free version of Meet, all conference attendees must log into a G Suite account to access it, and video calls are limited to 1 hour. These limitations are removed for paid licenses, however.
Third, Meet is more limited when it comes to web browser support. The tool is usable on Google Chrome, Mozilla Firefox, Microsoft Edge and Apple Safari on desktop only; Wildix, meanwhile, is available on any HTML5-supported browser, allowing it to run on all four previously mentioned browsers as well as Opera and plenty other independently developed browsers, whether on desktop or mobile.
Fourth, Meet has limits on conference attendees: the free version, as well as basic and business licenses, are limited to 100 attendees; the premium enterprise license can host up to 250. This too is different from Wildix, which supports an unlimited number of attendees regardless of license type.
2. In-Conference Chat
This is a feature that Meet has available, but does little to make particularly unique. Although Meet does include a chat window in conferences, chatting is all it can do with it; your only options here are to send text messages to the entire conference, or to read them.
Wildix, meanwhile, does far more with its in-conference chat. In a Wildix video conference, users can send private messages to other attendees and even use the chat window to share files with the group. Also curiously absent from Meet is a dedicated button for emojis by the chat window, which, again, is readily available in Wildix.
3. Screensharing & Controls
Screensharing, controlling other users' mics and operating their screens are also features that Meet, like Wildix, supports. However, control-related features in general are more limited in Meet: most notably, the software currently lacks both a virtual whiteboard and a "raise your hand" feature (although Google promises both are "coming soon").
In Wildix, both whiteboards and a "raise your hand" feature are included already, along with additional conveniences such as simultaneous broadcasts of YouTube videos and integration with both YouTube and Facebook for livestreams.
It's also worth comparing the two software options when it comes to keyboard shortcuts. Although Meet and Wildix both offer the feature, Wildix's version is far more robust.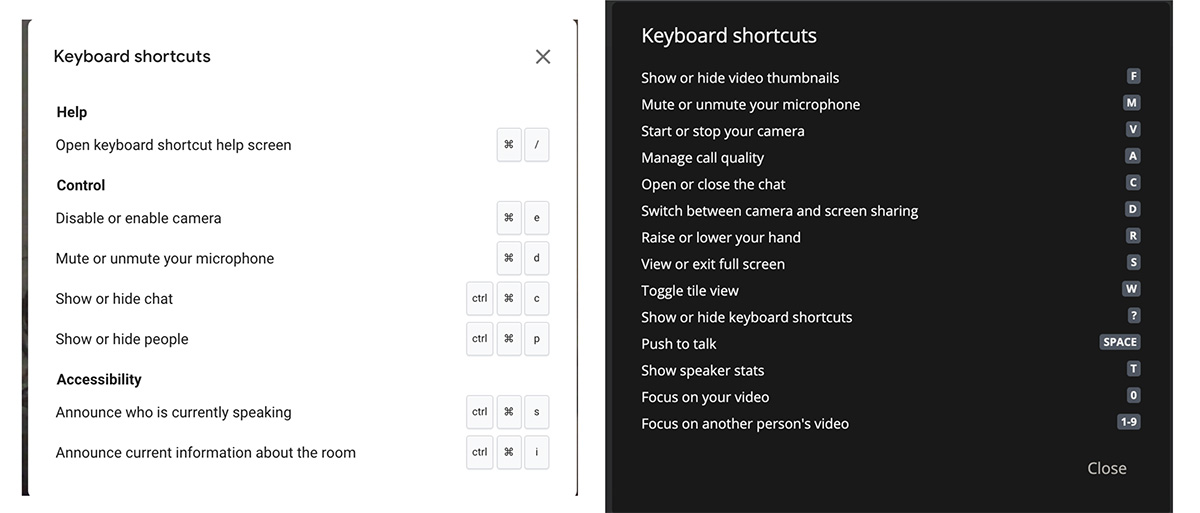 Keyboard shortcuts for both systems: Meet is on the left, while Wildix is on the right.
4. Security
Unlike the comparison between Wildix and Zoom, with Meet, there are relatively few differences in security to consider. As a Google product, Meet is a highly secure offering, and just like Wildix makes use of WebRTC to establish safe connections with conference attendees.
One curious difference, however, is that Meet offers "improved security" under its most expensive enterprise license: with this option (but no others), users gain access to secure LDAP, single sign-on for password-vaulted apps and a security management center.
Why exactly these features are sectioned off to their own license tier is unclear, especially considering Wildix offers full, reliable security regardless of the license tier users implement.
5. Recording Conferences
Here we reach the biggest difference between Google Meet and Wildix, and in fact an aspect that's likely to keep many users from using Meet's free license tier at all. Specifically, the free version of Meet lacks any means of recording and downloading conferences.
Omitting this feature presents significant problems. If attendees can't make it to a video meeting, having a recording of it means they can quickly update themselves on its content. Similarly, if someone simply needs a refresher on a conference, a recording makes for a convenient means of doing so. Because Meet lacks this feature in its free version, it instantly becomes far less of a viable option for business use.
Recording becomes available in Meet should you opt for a paid tier, however. It perhaps goes without saying, but with Wildix, the option to record both videoconferences and audio-only calls (which Meet also lacks) is conveniently available for all licenses.
Overall Value
With all of those features outlined, how do Wildix and Meet stack up in total?
Easily the biggest draw for Meet is the same point that draws users over to Zoom: the price (or lack thereof). Yes, as previously said, Meet, although featuring a paid option, is available to use entirely for free. And to be sure, there's no doubt many will be sold on this factor alone.
However, as we saw, that "free" price tag comes with limitations. For one, using Meet through the free license limits all video calls to only 1 hour. For another, using Meet for free means that attendees are completely unable to record conferences for later viewing.
For enterprise purposes, these limitations all but eliminate the value in using Zoom's free license. So, is it worth upgrading to one of Meet's paid tiers over paying for Wildix?
Answering that will, of course, depend on each business's individual situation. But in general, it's important to remember that the paid version of Meet provides relatively few features compared to its free version: as far as we can tell, the advantages are limited to removing the 1-hour limit on video calls and allowing users to download conferences, as well as giving users more space on Google Drive.
Beyond this, Google advertises access to integrated G Suite programs (like Docs, Gmail and Calendar) as part of a paid license. However, since all of these services are available for free to begin with, it's hard to really count them as additional features in our opinion.
A Wildix license, meanwhile, offers a more robust videoconferencing system, access to an integrated chat feature available outside of conferences, convenient file sharing, voice-only calls, browser-integrated phone dialing, voicemail and more. And, of course, this is all in addition to having the Kite chat function available on your website, and access to detailed call traffic information through CDR-View.
All in all, it would seem the motto for Google Meet is "effective, if simple." The paid tiers could be a feasible choice for an enterprise with limited needs, although the free version is effectively only for non-business users. Wildix, on the other hand, offers a far more complete video solution on its own, along with numerous highly capable communication tools besides.
This distinction is important because video calls are far from the only way smart working employees — or even employees still at the office — communicate; chats, voice calls, calls to landline phones and cell phones, file sharing and many other channels are key to any office worker's success. And the fact is, Wildix offers all of these integrated within one space alongside a video tool, while Google Meet simply does not.
That's far from a definitive recommendation for Wildix over Meet in all scenarios, but nevertheless, it's a crucial difference to consider when evaluating the two for business needs.
Breakdown:
Wildix
Google Meet
Unlimited video call length

Free version: 1-hour video call limit
Paid version: unlimited video call length

Unlimited video call users
Up to 100 video call users in most licenses; up to 250 users for enterprise licenses
"Raise your hand" and whiteboard functions
Both features "coming soon"
Usable in any HTML5-supporting browser (mobile or desktop) or as an app
Usable in-browser (limited to desktop versions of Chrome, Firefox, Edge and Safari) or as an app
Chat, screensharing and mute other user functions
Chat, screensharing and mute other user functions
In-chat file sharing available
No in-chat file sharing; can only share attachments linked to the Meet calendar invite
Simultaneous broadcast of YouTube videos + integration with YouTube and Facebook for livestreams
No comparable features present
Record function and secure downloads

Free version: no built-in ability to record calls, even if using auto-transcription feature
Paid version: record function and secure downloads (no ability to download transcripts alone)

14 total in-conference keyboard shortcuts
7 total in-conference keyboard shortcuts