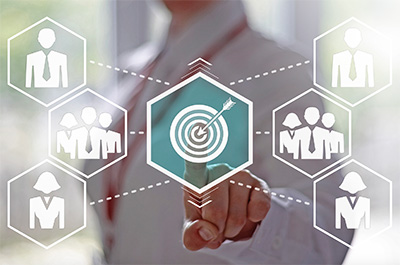 Over the years, I've studied, put into practice and questioned a great number of activities that were aided and assisted by books, courses and consultations. Some actions worked, others not so much.
Today, I would like to share with you the teaching that everyone who approaches marketing must always keep in mind, because it is that on which every activity is built.
No, it is not one of those super complex topics from a college textbook…
It is simple:
There is a target for each activity, and there is an objective for each target.
Someone must explain why, regardless of why everyone is in agreement with this concept, few remember it when they create marketing campaigns for their clients or potential clients.
It happens more or less like this… We create a lovely email and we send it to everyone in our database, hoping to attract someone out of the bunch… Women, men, loyal customers, people who hate us and would like us dead, colleagues, closed businesses, Mr. info@ and Mrs. contact@… all together, in a heap of people who have nothing to do with one another.
There… Sent! A nice message, the SAME for everyone.
Do you really believe that shooting into the crowd actually works?
Perhaps out of the bunch there was someone interested, but, faced with your message that was generic and all-encompassing, they will not take you into consideration…
"Do you have any old company, in any old region or any old town and you sell any old product or service? I have the tailor-made solution for you…"  
Tailor-Made? No one will ever believe you.
You want to do some marketing? Think about your listener, study them, fine-tune your message, and write something that is truly tailor-made for him or her!
"Are you a law firm made up of 3 or 4 partners that is interested in not missing a call when you are out of the office?"
The target must become the dictator of your activities. They must lead and you must follow. You must be aware of what they like, fear, and hope for. Only then will your email (or your complex campaign) be successful.
Look at this figure; I was enlightened by it the first time I saw it:

You are not dealing with clients or potential clients. You are dealing with at least 5 different targets. These are the 5 macro categories. It is not possible to have less than these. Instead, you may (or rather you should) cross these "types" of listeners with other data in your possession. But even just these would be enough.
Strangers are those who ignore you because they do not know who you are. They have never heard of you, they do not know that they may need your help. They are the most difficult to approach. Take it easy with them…Do not ask them to "buy", they are not ready, they do not trust you. Ask them something interesting or tell them something interesting, and ask them to complete a simple task (a click). ATTRACT THEM TO YOU!
Visitors are those strangers who give you a little something just to keep you happy…they clicked on your link, or they saw you on Google and clicked on your page (it doesn't cost them anything). With these people, you can be a bit more persistent. You can presume that they read something about you, you can ask them for something more… an email address, for example. Always in exchange for something (a document, a video, a gadget…) CONVERT THEM TO DOING SOMETHING FOR YOU!
Leads are visitors who asked you something spontaneously. They clicked, they read, they gave you their email address, they received the material… now they are asking for more. They are contacting you of their own will. They want an estimate, to know about risks, guarantees, etc…with them, you can put all your persuasive skills into action and close the sale. CLOSE THE SALE!
Customers are the leads you have already closed a deal with. And what do you do? Leave them there to forget you? You have invested so much energy to transform them from strangers into customers and, once they are, you go looking for others. Do you just leave those you have acquired to their own devices? Create LOYALTY with your customers. Write to them with a more INformal tone; propose a special offer, a fidelity card, anything that will make them feel special or part of a community. REWARD THEM!
Promoters are those customers who work for you. Those who tell others that you are the best and they would bet their life in recommending you. They are those who buy everything and anything you propose to them, those who stand in line in front of your store, those who write reviews on Google… To those, you must offer something special. Include them in a "Referral" project and award their efforts with something big. Turn to them as if they were your partners. To some degree, they really are!
Here are the actions you must take in order to have promoters who work for you, bringing you new clients!

But what are the activities to carry out during each phase?

Here the figure becomes complete. There are many activities to carry out! Not all of them can be attended to, I know that. But there is at least one that you can do starting tomorrow morning.
SECTION YOUR DATABASE. Differentiate (tag) your contacts into Strangers, Visitors, Leads, Customers and Promoters.
Every time you create a message or you plan an activity, think of who you are dealing with. Make your objective the action that brings your target to the next level.
NEVER ATTEMPT TO TURN A STRANGER DIRECTLY TO A CUSTOMER! NEVER! You will enter into the terrible price battle, with only a cardboard shield and sword for protection. If the stranger does not know who you are, they will judge you based only on the price list.
All of the steps are MANDATORY, in this order. They may be more or less quick, but you must follow this sequence, otherwise you risk screwing everything up.
So, I hope I have convinced you. Your database must have AT LEAST these 5 categories. Though, it is good to have some other minor ones to differentiate it even more. Follow your targets lead, and you will be successful.◼