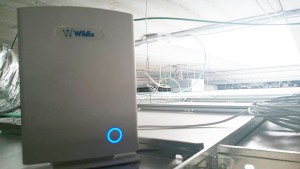 Okay, so you need to install a W-AIR DECT system.
Multi-storey buildings with elevators, metal constructions, columns, corridors, large halls – this all can create audio problems.
How to ensure the correct handover and the best audio quality at customer premises in such conditions?
Here are the 5 simple rules to follow in order to avoid the most typical errors:

Rule 1: Avoid metal constructions
Make sure there are no metal constructions, such as columns on the path between the two bases / repeaters.
Do not place bases / repeaters close to these constructions and, in no way, attach bases / repeaters to those constructions as there will be very limited signal coverage behind them.
If impossible, add more repeaters to improve the signal coverage.
Rule 2. Minimize number of obstacles on the path between two bases / repeaters
Place bases / repeaters in a way that you can draw a straight line between them.
Suggested distance between two bases is 30-40 meters but everything depends on the site.
In case there are high objects, place base stations / repeaters a bit higher, so that this object is no longer located on the path between the two base stations / repeaters.
Typically bases are placed 2 meters above the ground.
Rule 3. Avoid signal interferences
Avoid placing bases / repeaters close to signal interference sources, such as microwave anti-theft equipment, electric engines, switchboards with transformers or rectifiers, as they could weaken the antenna signal.
Rule 4 – important! You can't interconnect two base stations with the help of a repeater
Which means, in case two base stations are placed too far from each other, putting a repeater in the middle will not guarantee the DECT coverage.
However you can connect up to three repeaters in chain.
Repeater must be placed at the distance of at least 10 meters from its base station.

Read more recommendations on the strategy of placing base stations and repeaters and learn how to make the site survey from Wildix W-AIR handsets in our Wildix W-AIR System Administrator Guide.