More on the new software that improves customer interactions and empowers call centers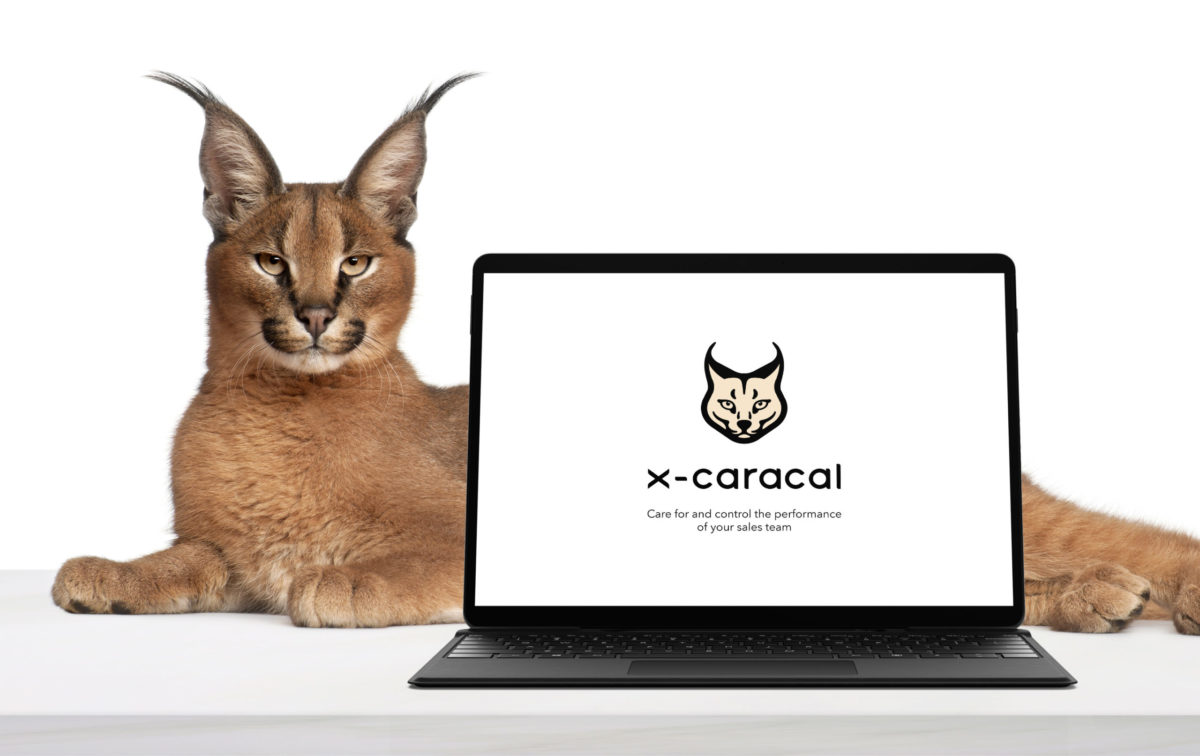 Especially when it comes to call centers and contact centers, it's pivotal that modern enterprises make use of a customer journey map. Customer journey mapping, in short, is the visualization of the various stages potential customers go through when interacting with a company. This is useful for understanding how these leads see your company while learning more about it.
If your organization uses a customer journey map, it's vital that you have a way of analyzing the communications behind each step of that process. Whether you're engaged in customer service, sales efforts or both, optimizing customer interactions is key to ensuring that your business fully engages leads, earning not only their business but their advocacy.
Making these improvements, however, requires data: hard information on how long calls last, how long they take to pick up, how often they're transferred and so on. Gathering these data enables companies to determine whether they meet customer expectations in the communications stage, which has enormous implications for profitability.
Frustratingly, gathering information around the communication side of the customer journey is often full of pain points as a result of analysis software being too hardware-demanding, too complex or too expensive. Furthermore, actually making use of data on customer interactions in these cases is next to impossible, as here it's presented in an unintuitive manner.
All these reasons are why Wildix created x-caracal, the light, agile and effective tool for gathering and analyzing Automatic Call Distribution (ACD) statistics and eliminating pain points common to interacting with potential customers.
A key booster for the lead conversion and customer experience stages of the customer journey, x-caracal is critical to enabling businesses to control their communications in real time. Its updated line of features ensure that business owners have a direct means of understanding all components of their customer interactions, strengths and weaknesses alike, and can alter their approach as needed.
To explain more, let's look at x-caracal in more detail.
x-caracal: the Wildix business intelligence tool
Practically speaking, x-caracal is Wildix's most effective means yet of gathering and sharing data over your company's customer interactions. The software is fully integrated with all components of the Wildix communications system — including the PBX, calls through WebRTC kite, videoconferences, webinars and more — and thus tracks statistics surrounding all elements of how a company manages the customer journey, in particular during the vital customer experience stage.
x-caracal works entirely in the browser and collects data in real time, which grants users significant flexibility in how and when they may use the solution itself. This is because not being tied to a standalone app ensures that starting up the tool is swift and seamless, encouraging managers to open it at a moment's notice should they need to understand new data on how customer interactions are proceeding. In addition, having a real-time overview of information means gaining insight from the solution is just as instantaneous, ensuring data about interfacing with potential customers can be analyzed as quickly as possible.
The primary value of having access to all these data is to identify bottlenecks and pain points in the communications process surrounding the customer experience, as well as strong points that signify a procedure to emulate. The goal is to create a particular communications procedure that will best entice, then delight your potential customers and result in brand loyalty and advocacy.
In particular, x-caracal can be used to gather and track KPIs common to a call center environment, including:
Calls answered
Calls abandoned
Wait time for calls
Call durations
Caller IDs
Transfers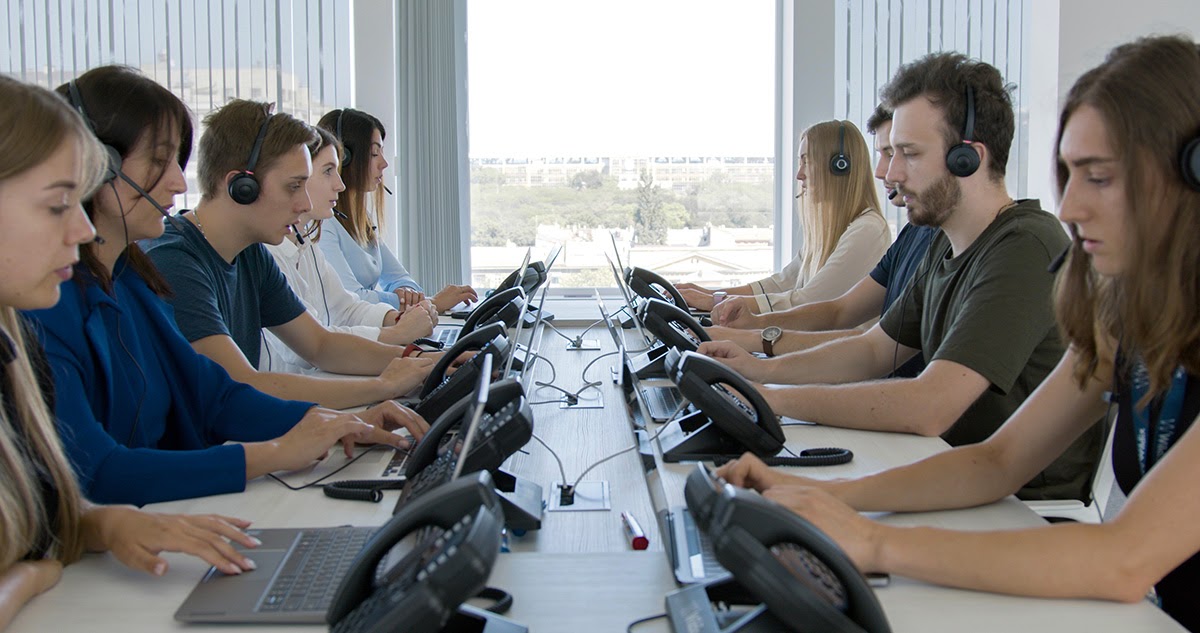 x-caracal is the perfect choice for monitoring and supporting a call center environment.
This information can also be automatically totalled and averaged, or sorted by time, agent or a custom condition — whichever is most useful for removing pain points and improving communications with potential customers.
Main dashboards in x-caracal
When surveying collected data, x-caracal provides contact centers and other enterprises with numerous preset viewing options in order to best organize the data surrounding your customer journey and customer experience in a productive, insightful manner.
These viewing modes are as follows:
Real-time: See how all your communications are playing out in the moment (especially useful in a call center context).
Distribution: View reports sorted by a given time frame (by hour, day, week, etc.) or by agent.
Answered: Learn more about all calls identified as "answered."
Unanswered: Learn more about all calls identified as "unanswered."
Agent: See all communications carried out by a specific user, as well as performance data from specific agents and real-time indications of who is currently in calls.
Search: Find specific information on any specific call.
Through these various dashboards, managers can easily find significant information for nearly any context within the customer experience in a relevant, practical manner.
For example, if a company needs insight on how to lower their overall missed call rate from potential customers, the data are readily presented for analysis under the "Unanswered" view. Similarly, the communications from a particularly high-performing (or low-performing) period can easily be put together for discovery purposes by using the "Distribution" view with the given selected timeframe.
Because each of these views display information ranging from call wait time to who the caller was, they are all comprehensive in their data presentation in addition to simply being convenient. This ensures that at any given moment, managers can easily conduct analysis of the customer interaction data that is most relevant to current business needs, without having to first wait for a relevant app to launch (which typically discourages users) or having pertinent information excluded (which negatively impacts any assessments).
As a result, managers can quickly track how their customer journey is working as a whole, or better understand individual steps within that process.
Major contact center-oriented features
In addition to providing useful set views of information on your communication system's operation (and the effectiveness of your company's customer journey), x-caracal also provides individual features that are crucial to managing how an organization conducts communications with potential customers and, by consequence, lands sales.
Let's go through the most major of these features now.
Chart generation with inline help: 
As we already discussed, x-caracal has the capability to automatically generate charts from the data it gathers from customer interactions without any initial input from the user. This means that managers will receive instant access to a more analytical view of their communications procedures at all times, which ensures they will consistently be able to understand those proceedings in detail.
To amplify the level of detail with which managers can understand this workflow, x-caracal also features inline help within all pre-generated charts. Simply mouse over any given section of the chart (individual bars, areas of a pie chart, etc.) and the system will provide additional insight into the area through a pop-up window. This way, managers can consolidate their analysis procedures into just the single interface x-caracal provides, cutting down on general pain points and in particular time spent switching between windows or sections of the program itself.
Exporting:
Regardless of whether they were automatically generated or created through user input, any graph in x-caracal can be saved as a PNG, while any grid can be exported as a PDF or an Excel chart. This ensures that processed layouts of data can neatly and cleanly be transferred to different documents, especially presentations or white papers demonstrating the current state of company customer interactions. Additionally, this also simplifies the process of exporting graphs out for additional analytical purposes by allowing data to seamlessly move to spreadsheet software.
Predefined reports:
In addition to predefined real-time and historical views, x-caracal can also generate preset summaries of data along the following categories:
Distribution: Distribution Summary, Total Calls (Number of Received/Answered/Unanswered/Abandoned/Transferred Calls, Unanswered/Abandoned Rate), Distribution by Queue/ Month/Week/Day/Hour/Day of Week, and Detailed Distribution Report
Answered calls: Answered Calls Summary, Total Answered Calls, Service Level, Answered by Queue/Agent/disconnection cause/Call Length, Transfers, and Answered Calls Detail
Unanswered calls: Unanswered Calls Summary, Total Unanswered Calls, Service Level, Disconnection Cause, Unanswered by Queue and Unanswered Calls Detail
Agent reports: Agent Summary, Agent Totals, Agent Availability, Pause Detail, Call Disposition by Agent, and Full Agent Report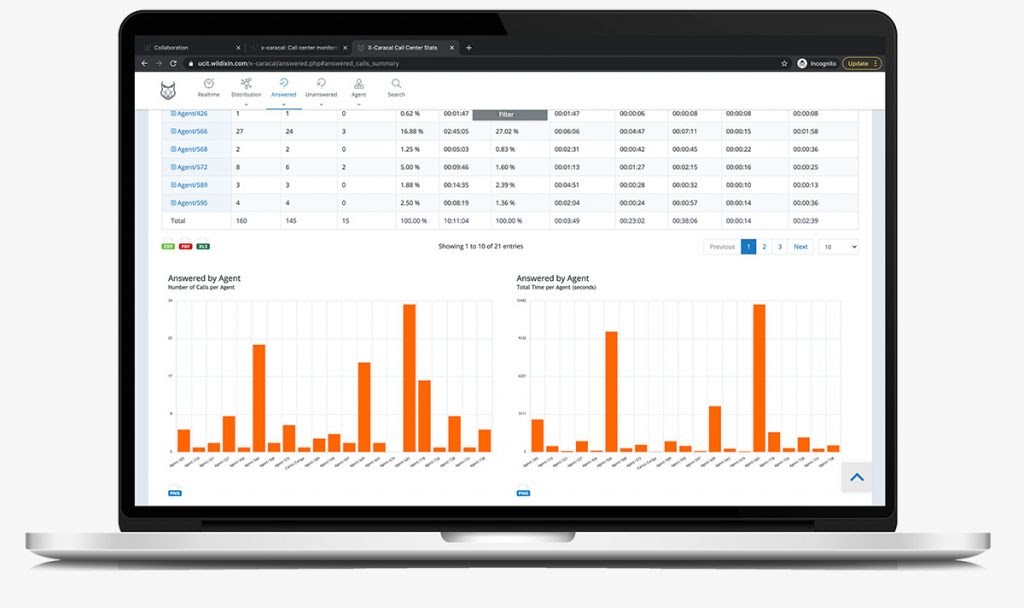 One of the many report views available in x-caracal.
Since all of these reports are accessible with just a few clicks, it likewise simplifies the process by which leadership sees and consequently improves upon your communications during the customer experience stage of the customer journey.
Access controls:
To keep unnecessary eyes off the working process and any pain points surrounding your communications flow, it's possible to restrict viewing of the data x-caracal has available.
In x-caracal, the main administrator can restrict other license holders from accessing the program. Should this be of interest, admins can simply pop into x-caracal's access control level settings and restrict select users there.
This added layer of security can be crucial to maintaining security through proper access controls, ensuring your data is safe by providing it only to those who actively need it.
Scheduled reports and alarms:
In some use cases, it may not be ideal to actively have to click into x-caracal each and every day in order to check how communications are currently proceeding. Perhaps schedules are just too full to find time to open x-caracal in the browser, perhaps managers are liable to forget to check in on processes.
To work around these and other pain points common to manually checking call stats, x-caracal can schedule automatic sending of multiple reports through email. All this takes is specifying how often reports should be sent, then what data queues should be used for the reports. You can also specify on what day and at what specific hour these reports should be delivered.
x-caracal also includes the capability to send reports over email once a specified variable exceeds a stated value, as something of a "communications alarm." For instance, a supervisor can set that if 10 calls go unanswered in one day, they instantly get an alert about it so as to quickly find a way to resolve the current flaw in the call queue.
Takeaways for your customer journey map
To reiterate, there's no overstating how important an effective customer journey is for good sales. Incoming visitors need an impactful, positive experience to be considered a qualified lead, and even then, potential customers may require a great deal of further impactful interactions during the customer experience stage to become actual paying customers. Transforming those customers to active promoters of your brand requires more care and attention still.
This process is rife with pain points, even with an effective team on your side. The reason why comes down to the fact that improvements in a communications system can't happen without thorough insight.
x-caracal provides business value and enables organizations to control their communications (and thus your customer journey as a whole) through this insight. With a wide variety of data sets made available and plenty of ways to analyze those statistics, x-caracal goes beyond the functionalities offered by a traditional ACD stats tool and provides businesses with effective and highly versatile usability, especially when it comes to tailoring an improved customer experience.
In addition to all the ways that x-caracal provides more insightful data analysis, the fact that it's quick to start up and easy to access is also an incredible point of value. Rather than gathering digital dust because of long start-up times, x-caracal boots up quickly, right within your browser. This convenient ease of access ensures that any time management may benefit from added insight into their customer interactions, they can instantly access their communications data and look into that overall process.
With this effective combination of usability and functionality, x-caracal makes an effective choice for any business seeking to eliminate the pain points common to the online customer experience and turn more potential customers into a recurring source of revenue.
For more tips on improving your customer journey, subscribe to receive our magazine for free!