How Wildix's global calling service goes beyond the capabilities of a traditional SIP trunk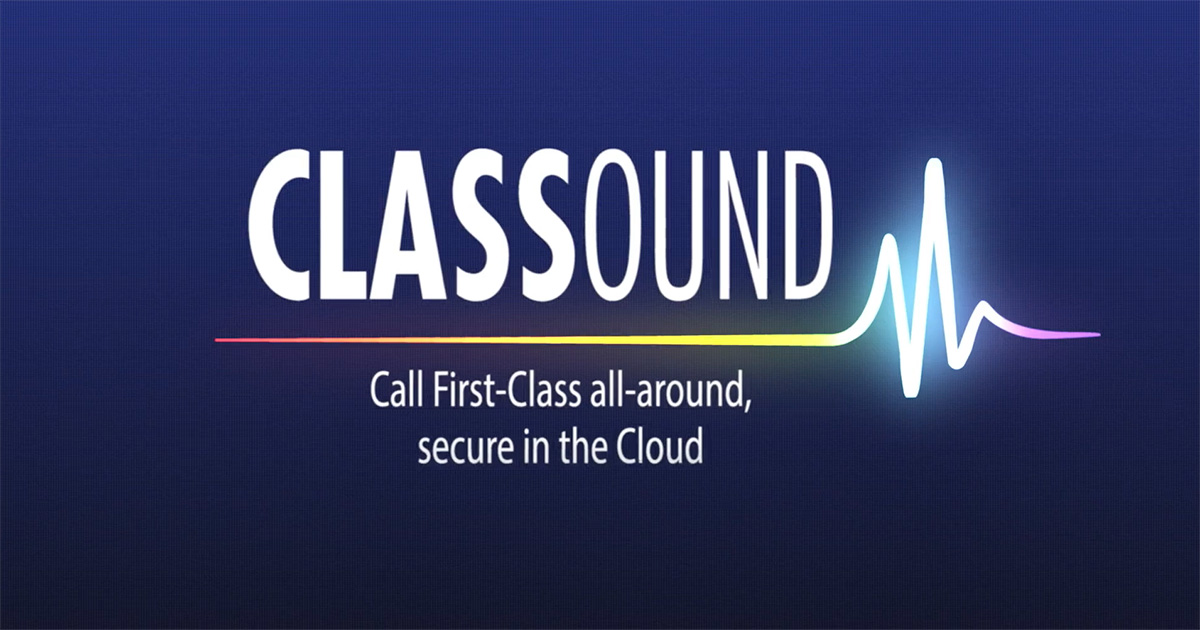 Implementing SIP trunks — especially on an international scale — is usually a difficult process. Even after finding carriers to handle call exchanges across regions, these trunks often have poor security due to no TLS support, as well as no failover protections and difficulties in installation and maintenance.
It was in order to solve problems such as these that Wildix initially created CLASSOUND, a fully Cloud-based service that goes beyond SIP trunks in its capabilities. Using CLASSOUND, companies can enjoy the full capabilities of a communications system with global coverage, combined with the security and maintenance they'd expect from a modern enterprise-grade VoIP system.
However, CLASSOUND has more value than just its initial purpose, as it has numerous benefits that are relevant to any end-user, even those without an immediate need for international calling. Thanks to the convenience, reliability and simplified service CLASSOUND provides, the solution easily adds value in any business context in ways that ordinary SIP trunks cannot.
Here, we'll discuss some of the most major benefits of CLASSOUND and the exact value they offer to an end-user's business.
International Communications
Although we discussed this component previously, international communications truly are an invaluable tool from CLASSOUND and worth explaining in more detail.
Should a company have multiple offices spread out internationally, or simply have customers around the world, naturally they will need a means of reaching those colleagues or customers. However, using a local SIP provider for these purposes is typically both difficult and expensive, often to the point of this setup being unprofitable for MSPs.
The reasons why are numerous. On top of finding carriers for each region to be covered, there's also the issue of porting numbers for those different carriers, as well as the high rates each carrier may charge for these diverse services. There's also the fact that each region will have its own rules and regulations to follow regarding porting and related services, which further complicates setup under a traditional carrier.
However, using CLASSOUND, these complications disappear entirely. Because CLASSOUND is already integrated with carriers around the world, it supports activating numbers in 133 countries (significantly more than most vendors) and provides calls to any country worldwide. This saves MSPs significant time and effort compared to the process of setting up a SIP trunk externally.
In this way, CLASSOUND enables MSPs to complete their business communications package with seamless international capabilities, making it an easy option to give customers a complete all-in-one UCaaS solution.
In fact, this is true even when selling to companies without international setups, thanks to the solution's additional benefits.

Predictable Fees
Carriers often charge for a SIP trunk on a per-use basis. While this model may appeal to businesses seeking lower rates for their communications services, the drawback is it makes budgeting more difficult for businesses, as there's no guarantee how much each bill will amount to.
As another difficulty, this model can also create pricing issues between the end-user and their carrier: customers may believe they're being overcharged for the month and complain to the carrier about it. For the MSP stuck in the middle of this conflict, there's usually no way out without upsetting one party.
CLASSOUND avoids this problem by charging a single flat fee on a per month, per user basis, providing 3,000 minutes for each licensed user. While additional minutes are available past this starting amount, the set 3,000 minutes can easily account for most individual professional's monthly calls entirely on their own.
Under this policy, unlike the purely per-use model, businesses can easily plan their expenses each month and never have to deal with scenarios where they feel they've been overcharged.
As implied previously, using SIP trunks often leads to complications in their initial setup, typically as a result of the inherent design of SIP trunks.
Since phone architecture requires all numbers to be kept in their original database, porting numbers to a new carrier still requires coordination and support from the original carrier, despite how they have no financial interest in doing so. Obviously, this also makes the process less reliable, as changes made by the old carrer are carried out without any control or pre-agreement from the MSP.
Then, the actual installation of a SIP trunk comes with complications of its own. Because SIP trunks cannot be tested prior to their setup, a VoIP technician will have to be on-site during installation, usually at a very early hour to minimize missed calls while the network is offline, in case of technical errors.
This is all to say nothing of the complicated process of installing the SIP trunk itself, which involves connecting the trunk to the carrier's network, connecting it to the PBX, setting up and activating an account with the new carrier, setting up and maintaining a fixed IP address… All this, on top of any steps provided from the carrier's own documentation.
In contrast to this confusion, CLASSOUND doesn't require a traditional installation at all, ensuring MSPs and customers alike a convenient experience from start to finish.
To set up CLASSOUND, all an MSP needs to do is enable the service, then specify how many numbers are to be ported into the service and how many will be created for it. No configuration of the PBX is required, and in fact no traditional "installation" even takes place to activate the service. Using it is as simple as specifying that you're activating the service and intend to port and/or create numbers for it.
In addition, the porting process for CLASSOUND is refreshingly straightforward. Again, thanks to how CLASSOUND is integrated with the Wildix platform, migration happens quickly and with zero downtime, taking only a matter of days to complete the porting process. Thereafter, existing phone numbers can be used for international calls without any further changes.
Beyond these procedures, there's very little else that needs to be configured with CLASSOUND, as the solution is designed to work immediately through the end-user's current system. This too ensures customers receive a reliable service, while MSPs receive a steady source of predictable monthly income for providing it.
Avoiding IP Address Issues
Normally, anything related to IP addresses shouldn't be a big issue for MSPs. But unfortunately, an ongoing issue anyone in IP-related services currently faces is IPv4 address exhaustion, which threatens to make continued use of IP addresses outright unprofitable.
This problem effectively means the Internet is running out of fixed addresses within its online space, and consequently keeping them is becoming more difficult and expensive. Although dynamic IP addresses are one potential fix to this problem, this answer alone unfortunately cannot solve the issue for all MSPs, as many need their IP address to stay in place to maintain the point-to-point connections demanded of them by SIP trunk carriers.
In the face of this issue, CLASSOUND provides a solution: as an integrated VoIP service, CLASSOUND does not require any fixed or reserved IP address. At the same time CLASSOUND is fully secure and reliable thanks to TLS signalling encryption and a highly available infrastructure monitored 24/7.
Naturally, this means the IPv4 address issue outright does not exist when placing calls through CLASSOUND, solving it in a roundabout manner. By not requiring to whitelist specific IP addresses, the worldwide shortage is simply not an obstacle for issuing MSPs or customers, simplifying the entire UCaaS setup and maintenance process.
Compared to the higher time and financial investments static IP addresses can incur for some MSPs, just circumventing the problem this way is easily more appealing.
Management is likewise a major factor for switching to CLASSOUND, as the solution operates without the roadblocks and difficulties typical of other carrier services.
This is largely because maintaining a traditional carrier's SIP trunk alongside a Wildix setup can present difficulties, especially if it isn't a carrier Wildix recommends. Although some carriers are certainly better than others, in many cases simply using one in combination with a UCaaS system creates problems just by nature of the combination.
Consider the troubleshooting process under a combined Wildix/carrier setup. Should technical issues arise, the MSP operating the setup must submit a ticket to both Wildix and their carrier; as the issue is investigated, it likely won't be clear to either Wildix or the carrier on whose end the problem originated, elongating the time it takes to solve the problem.
CLASSOUND mitigates this problem as well by routing all services through Wildix. In the event of an error, all the MSP has to do is submit a ticket directly to Wildix, and the Wildix tech department will work to resolve the issue.
Here, initiating the troubleshooting process is simpler, as only one ticket needs to be submitted at all. Furthermore, there's no confusion over where the issue originated, as there's only one side where it could arisen.
This is all in addition to the fact that the troubleshooting itself is carried out entirely by Wildix. Neither the Partner nor the end-customer has to do anything beyond reporting the issue; once the ticket is submitted, Wildix handles the problem internally, reaching out only for more information or to report it's been solved.
Naturally, this vastly simplifies the maintenance aspect of any communications system and gives both customers and MSPs complete peace of mind. All parties in these cases have total assurance that their communication channels receive constant, proactive monitoring to minimize the possibility of errors or downtime, all without any additional cost or labor from either the MSP or the end-user.
Although CLASSOUND may represent an initial bump up in cost for the MSP issuing it, this starting increase should be viewed as an investment leading to increased, easier profits under the MRR model.
In general, cutting costs with cheap SIP trunks is just a temporary stopgap when it comes to building an effective communications system. All too often, low initial costs on a faulty system translate to more money spent over time: they mean more spent on maintenance, more spent on tech support and more spent on trying to win back customers who are dissatisfied with constant trunk failures and long troubleshooting periods to fix them.
The costs of this process aren't just financial, either. Running around to set up and fix cheap, traditional trunks this way also takes significant time and effort, which easily could be spent on securing new customers or other more worthwhile investments.
Of course, this all is in addition to the looming problem of the depleting IP address supply and the pressing need to move away from fixed ones. While dynamic IP addresses are a potential fix, they're just one option; CLASSOUND, with no need for IP addresses at all to enable calls to and from anywhere, is another effective fix.
With all this in mind, just because CLASSOUND was built initially for international calls shouldn't exclude it from solving other issues as well. Like any other tool in an MSP's arsenal, this solution must be considered based on all the valuable use cases it can create, not just one or two niche cases.
As a future-proofed, Cloud-hosted service, and as a solution managed singularly by Wildix, CLASSOUND grants MSPS total peace of mind and gives end-users technology worth sticking with in the long run.
For more tips on boosting your MSP business, subscribe to receive our magazine for free!