Why should companies have lean communications? How to remove waste by facilitating higher quality and less frequent communication?
We live in an age that offers a record number of possibilities to communicate. Landlines, mobile phones, email, social media, faxes, public messengers including Skype, Whatsapp, Viber, WeChat, and Facebook Messenger just to name a few. In addition to these applications, we have access to corporate CRMs, ticketing systems, chat systems, blogs, and forums. Often the use of new medias do not necessarily lead to the dismissal of the old ones.
Too much communication leads to loss of time and efficiency.
Too much uncontrolled information leads to slower processing times and user dissatisfaction.
In the same way that factories apply lean manufacturing to eliminate waste from their production, service organizations can also apply lean services and lean communications to eliminate waste and improve their customers' experience. Telephony, Unified Communications, and Communication Systems are all key components to providing quality services to customers.
By waste, in this article, we are referring to all operations and work done which do not add value for the customer. Let's consider the categories of waste that add complexity, for both users and the team, but do not provide value:
Delay

. Customers waiting for service, for delivery, in queues, or for a response, that doesn't arrive as promised. Customers' time may seem free to the provider, but when they take their business elsewhere, the pain begins.

Duplication

. Having to re-enter data, repeat details on forms, copy information, or answer queries from several sources within the same organization.

Unnecessary Movement

. Queuing several times, lack of one-stop options, or poor ergonomics during the service encounter.

Unclear communication

. Wasted resources seeking clarification, confusion regarding how to use the product or service, wasting time finding a location that may result in misuse or duplication.

Incorrect inventory

. Being out-of-stock, unable to get exactly what was required, or substitute products or services.

An opportunity lost to retain or win customers

. A failure to establish rapport, ignoring customers, unfriendliness, or rudeness.

Errors in the service transaction

. Product defects in the product-service bundle, as well as lost or damaged goods.

Service quality errors

. A lack of quality in service processes.
While some of these points require improvement to the product-service process itself, a communication system allows organizations to detect such problems faster, mitigate their negative effects, and collaborate more efficiently within the team to apply solutions.
Thus, the goal of a communication system is to provide the tools to address all of these waste categories. Unfortunately,
most communication systems generate waste instead of removing it.
Let's look at a few examples that match the categories of the previously described waste:
A group of full-time secretaries busy routing calls to internal users

Waiting online for 30 minutes for an operator to answer

Five calls to reach a colleague only to:

discover that they are on vacation

discover that they are no longer working at the company

Days of time wasted travelling because of the lack of a conference solution

Four call transfers to reach the key account for a customer

Opportunities lost as a potential customer:

could not talk with someone within 20 minutes

was not informed of the organization's working hours

could not communicate over the Internet/chat

Disconnected calls

Expensive, low-quality intercontinental calls in place of high-definition Internet calls

Lack of caller notification that the offices are closed

Call routed to the wrong support team member, leading to all information being repeated from the beginning

No tracking of incoming/outgoing calls by the requested service: Sales and Support

Days wasted calling back the same potential contacts

A fax with an incoming order, or the loss of other important information
These problems are usually caused by a PBX / Unified Communication Systems which cannot:
Simplify access: supporting new medias, such as chat and web calls, to connect customers effortlessly with the team.

Integrate: working together with a CRM/Ticketing System, allowing sign-on to the team and customer's social media to provide a simpler experience, or supporting Emergency Home/Automation solutions.

Automate: performing repeated operations (for example: automatic device configuration, automatic bypassing of firewalls, automatic sign-on, automatically matching an incoming call to a ticket, or queuing requests).

Analyze: determining the quality of the communications performed, find bottlenecks and waste (for example: an excess of support calls because of a product defect).

Store: saving important information such as call recordings, chat sessions, and call data records for later analysis.
Only when a system is capable of performing all these operations can the process of communication improvement really start.
In the next blog articles, we will examine the media channels (chat, calls, video, etc.) available and the applications they can build. We will examine how to use them to improve the team collaboration along with the service to customers.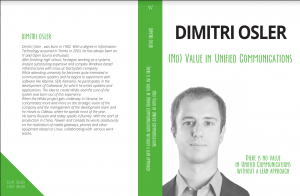 Information request: