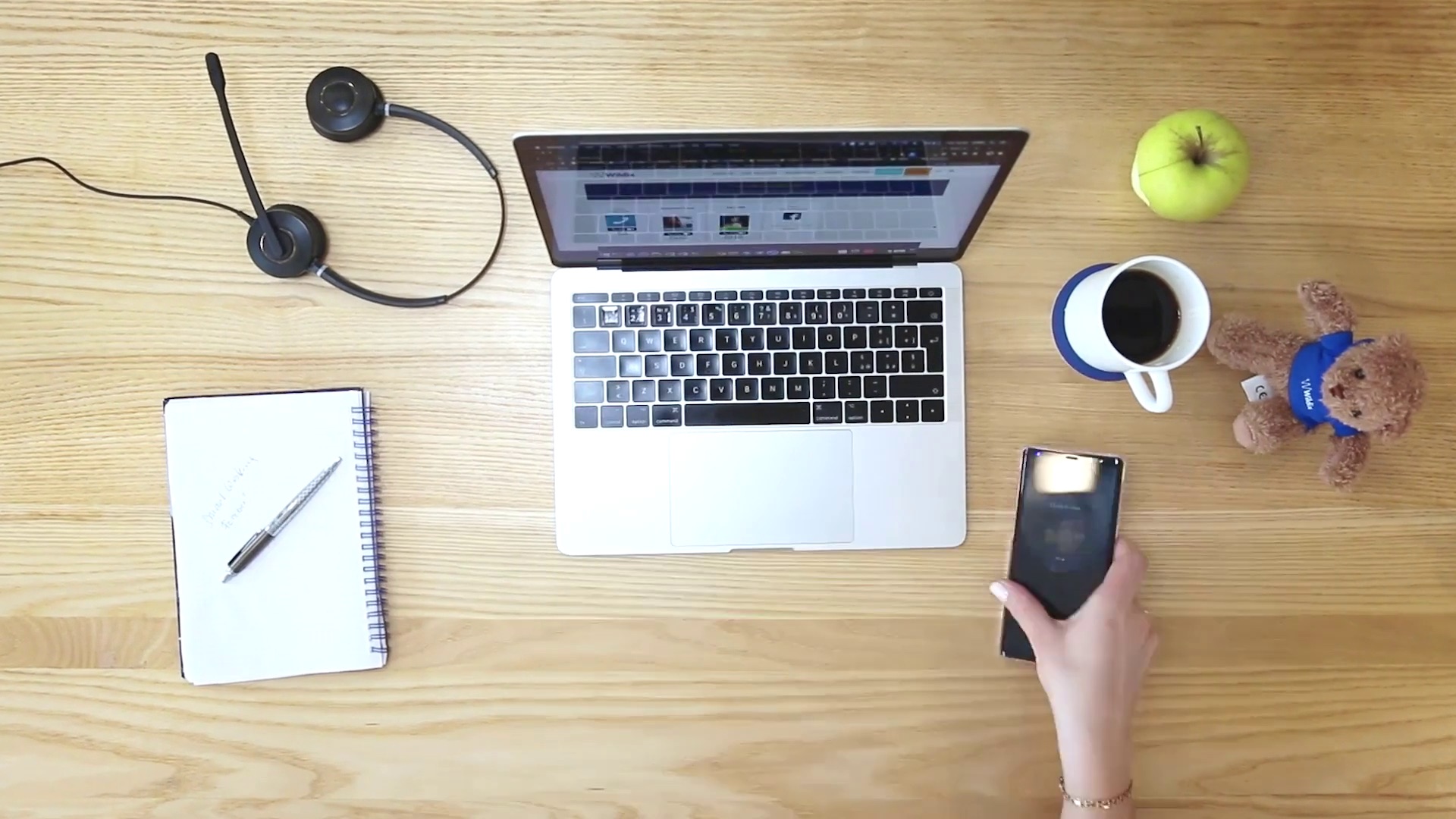 Activating smart working in a company in just one working day — is it technically possible, or it is just another marketing trick?
In the recent weeks and months, due to the COVID-19 outbreak, many companies around the world have been struggling to provide their employees with tools that can enable them to work from home while maintaining the same level of productivity and availability.
This is especially true for those companies who never had the practice of remote working in place before the outbreak. Just a few months ago, smart working was simply "nice to have", and was used only by a small percentage of companies. Today, it is no longer optional; it has become a must-have capability for every business as a means of survival.

In this blog post we will analyze, from a technical perspective, whether it is possible to quickly and seamlessly activate smart working in a small to medium scale company and how much time it will take.
I det här blogginlägget kommer vi att analysera, från ett tekniskt perspektiv, huruvida det är möjligt att snabbt och sömlöst aktivera smart arbetande på ett litet till mellanstort företag och hur mycket tid det skulle ta.
As an example, we will consider a small company composed of 50 employees that needs to activate smart working solution and has the following requirements:
Teams are no longer able to conduct face-to-face meetings. They need a powerful web conferencing solution to be able to host online gatherings that would allow them, in addition to hold video conferences, to work together on documents and share their screens.
Colleagues can no longer come to each other's desks or go to a meeting room to discuss something when working on the same project. They need efficient real-time collaboration tools — including chat, calls, screen sharing, group chats and file sharing.
Customers are in a lockdown, and so they're buying products and ordering services online. This means companies need to focus on increasing online sales. A simple way to do so would be through their own corporate website; this can be achieved by adding a feature wherein the end customers can get in touch with company call agents right from the landing page.
All meetings with partners, suppliers or potential customers have to be moved online as well. This means a corporate web conferencing solution must be easily accessible by external users in addition to internal employees. It should be easy-to-use and should not require any additional hardware or software.
Implementation and delivery of the solution
As for delivery — installation must be done remotely. Technicians now cannot go on-site to the office of our company, and they cannot go to people's homes to install and set up any software or hardware. Their solution must be installed remotely, from start to finish.
No on-site training for employees is possible in our current situation. A corporate solution must therefore be intuitive and easy-to-use by people of different ages and skills and even by people without any technical background. It should not require any plugins or programs to install, troubleshoot or update.
One more thing to consider when activating smart working and letting people use their own devices: the solution should guarantee full security without complicating the infrastructure by requiring VPNs and SBCs in the office or at people's homes.
How Do You Deliver a Smart Working Solution Remotely?
Now that we understand a typical company's needs, the question is whether it is technically possible to implement a solution that would meet all those requirements, and if yes, how quickly can it be done.
Wildix, the first browser-based Unified Communications and VoIP PBX, advertises that just one working day is enough for this implementation. Additionally, the entire process can be done remotely, without any on-site installation.
From a technical standpoint, how exactly is it possible to enable smart working in a company in just one working day?
1) Create a new cloud instance = 5 minutes
All Wildix partners have access to the Wildix Management Portal, where they can see and manage all of their customers' phone systems. It takes just a few minutes to create a new cloud PBX and add user licenses.
The Wildix solution is very scalable—you can add as many user licenses as you need, and you can add more of them any time they are needed, in real-time. You also get quite a bit of flexibility in terms of recurrent payment periods; you can choose between one month, one year and five years.
In just a few minutes, our PBX is ready and activated, and we can access its admin interface via the browser from any laptop. There's no need to install anything to be able to access and manage our PBX.
2) Set up the PBX = 40 minutes to several hours + 12 hours for porting of phone numbers
At this point, we can add our users. The easiest way is to import them from some backend: LDAP, Active Directory, MySQL, MSSQL and other sources are all supported, as well as a simple CSV file.
The same goes with phonebooks. Once we import them, we can set up a scheduled job, and our users will have access to all the shared phonebooks in real-time from all of their devices, unless we want to restrict it.
At this point, our system's users can already call each other. You don't have to do anything further to enable internal calls.
For external calls, we recommend using the service called CLASSOUND, provided by Wildix. It offers HD audio and video, encryption and failover are enabled by default and more than 130 countries are supported at the moment. Migration is easy, meaning companies can keep their existing phone numbers. In just 12 hours, their employees will be able to receive calls directly to their homes and use their existing phone numbers to call customers, partners and suppliers.
Now it's time to work on our Dialplans! This part will take us longer, because we will need to understand the customer's needs and set up the system based on them. Wildix Dialplan offers countless scenarios for managing incoming and outgoing calls. You can set up timetables, create groups of call agents (Tech Support, Sales department, etc) to manage queue calls, create IVR trees, etc.
3) Enable Collaboration, internal and external calls = 5 minutes
How do employees access the interface for Collaboration, and how can they start making and receiving calls if they don't have their desk phone at home?
The system administrator sends out an invitation email to all of our employees. This email contains a link to join the web-based Collaboration and access credentials. Web-based means that they don't need to install anything on their laptops — they can access it right from the browser.
Once our users have accessed the web-based Collaboration, all they need to do is to add their user picture, the roster and set up their preferences for call forwarding.
They can place and receive calls directly from the web interface without having to install any plugins. This is possible thanks to their browser's native support for WebRTC, the technology that enables browser-to-browser communication. Colleagues can manage their calls in the same way they do from their office phone; all the same features are available, including call transfer, hold, call recording, etc.
In addition, employees can download a smartphone client from Google Play Store or Apple's App Store that brings all of the Unified Communications capabilities, including group chats, to their smartphone.
4) What about a desk phone? = 2 minutes
What about those employees who literally cannot live without a physical phone? Those users can opt for Vision and SuperVision Android desk phones. You can easily take this phone home and start using it after only a couple minutes through the following process:
Connect the phone to the power supply
Connect the phone to your home WiFi network
Log in to the Wildix app
5) Set up a web conference = 30 seconds
One of the most powerful solutions that Wildix offers for remote workers is our web conferencing functionality.
You create a new conference room right from our Collaboration web interface, then invite users in and schedule the conference for later. You can also invite external parties, and everyone will receive an invitation email with instructions on how to join the conference.
To participate in a video conference, all you need is a laptop or a smartphone and an internet connection. It's very simple as it's also based on WebRTC and again, doesn't require that you install anything.
How Do You Train Remote Employees?
The point here is to choose a solution that is so easy-to-use and intuitive that it requires no end-user training, even in a situation where our employees are of different ages and have minimal to no technical skills.
For those users who would like to take full advantage of the Wildix solution, we offer a series of short video tutorials explaining all of the advanced features. All videos, the same as our user documentation, are available online without any registration.
Security Considerations
Security is one of the top concerns for companies that embrace smart working and BYOD (bring your own device) policy.
Wildix designs its solutions with security in mind, making sure all the security features are built-in inside the product. This means the Wildix system is secure-by-design and security is never delegated to third party devices.
Here are just several points explaining how we guarantee the 100% security of the Wildix solution:
Single Sign-On option with Active Directory, Google, Microsoft
Two Factor Authentication (2FA)
Secure hash functions SHA-512 + salt for user passwords encryption
TLS encryption of HTTPS traffic to the PBX, screen sharing sessions, web conferencing
SIP TLS – SIP signaling over TLS
Intrusion detection over all services managed by the PBX
DoS protection over all services managed by the PBX
Audio, video calls and web conferencing via WebRTC:

WebRTC offers security "out-of-the-box", its security is contained within the browser
All media streams sent via WebRTC are encrypted using DTLS and SRTP, making wiretapping, tampering and eavesdropping impossible
External servers (e.g. TURN) do not decode the application data layer and do not touch DTLS encryption, they do not have access to the information exchanged between the peers
Watch the video: How to activate smart working in a company in just one day with Wildix.