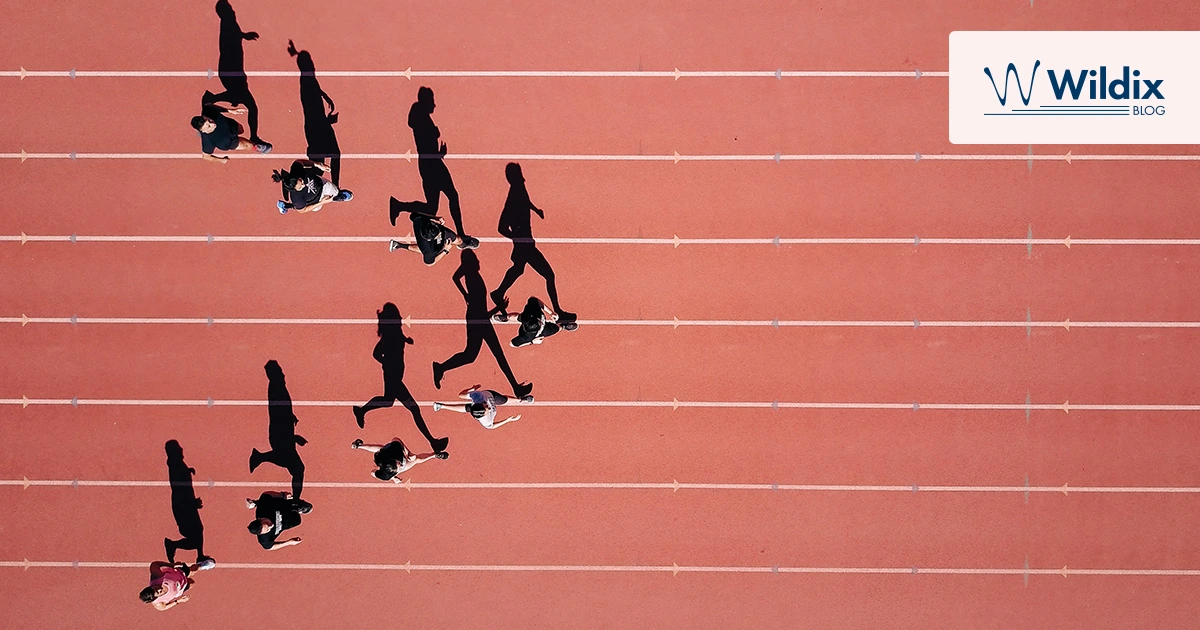 Those who wonder how to be a managed service provider that grows are most often considering better ways of MSP lead generation. After all, generating leads means landing more new sales, and more new sales is the best way to keep your business growing — right?
To be sure, for any MSP lead generation is critical to lasting success. Your business won't get anywhere without a good supply of sales, and all too often, MSP companies leave themselves without a healthy customer base.
However, the other side of MSP lead generation is that an MSP's profitability isn't always the result of brand new prospects. As much as it may feel as if your MSP isn't growing without fresh leads, growth happens for UC&C providers from plenty of other sources.
Setting yourself up for bigger profits over time doesn't just come from getting new deals from bigger and bigger new leads — equally if not more important than an MSP's lead generation is how they've positioned their business in the market, along with how they approach existing customers.
Defining the Role
Before we even talk about new leads versus old ones, however, let's talk positioning.
Setting your MSP enterprise up for growth means knowing exactly what consumers expect from that role, as well as the specific value only MSPs provide. And without question, that value is your services — not technology.
This is foundational in building any managed services company. When prospects go looking for MSPs, of course they're looking for effective technology. But that's only a small part of what they want. More importantly, customers are looking for MSPs because they want technology that they don't have to select, install and maintain — in other words, they're looking for technology services.
Again, this should be the very basis of your business's very mission statement. If your answer to "what is an MSP company" doesn't stress services, then it's important to reevaluate your vision of your own business.
At a basic level, successful MSP lead generation comes from emphasizing reliable, ongoing services and platform management, qualities that instantly stick out to in-target prospects. Remember, MSP companies don't find success from reselling solutions — if that's all prospects want, instead of talking to you they'd be browsing Amazon or a tech vendor's product portal.
MSP Lead Generation: The Basics
So let's talk more about that sales aspect. Now that you've gone about defining a valuable business plan — one that stresses your technical expertise over your products — how do you go about making money off it?
Just like it is for any business owner, MSP lead generation comes from searching through in-target options. And the good news is, you'll find a lot of relevant industries and verticals here: if they need phones at their business, then they're probably in need of your services, all the more so if they have a large call volume.
Offices and large-scale collaborative entities are ideal, but really they're only the tip of the iceberg. Phones are the focus here, and especially in-target are those clients that have a ways yet to go as far as building their telephony architecture, or potentially even their broader communications platform.
So how do you keep those prospects warm and win them over? It all falls back to the big reason for hiring an MSP: your expertise and services.
We've already been over how customers only interested in technology will likely go straight to B2C purchase models anyway. But it's also important to remember that customers looking for MSPs are seeking expertise and specific results from their specific problems being addressed, rather than a one-size-fits-all solution being applied.
Because of these better realized results, demonstrating that you're able to solve the prospect's specific needs is the most useful out of all the MSP's tools for sales and marketing. Your prospects probably have a general idea of what technology they need — they have less idea of what specific solutions and setup will best fit their exact needs.
If you demonstrate that you have that answer, and that you understand the prospect's specific problems, you'll already have a huge leg up on how to market your MSP business over the competition.
Essential MSP Lead Generation Strategies
As fine and good as that positioning is, what about actual ways to get those leads into your pipeline?
At the risk of demystifying the industry, an MSP's lead generation looks an awful lot like lead generation for most any SMB. That is to say, if you know the basic strategies behind coming up with prospects for business in general, you won't be surprised at what goes in for MSP enterprises, either.
That said, some of the most important methods of MSP lead generation include:
Website contacts: When prospects first learn about your business, your website is often the first place they'll check. Be sure you have a "contact us" section or registration form on your site so visitors can move directly into your sales funnel.
Email: Directly emailing potential prospects or starting email campaigns can easily bring new leads into your pipeline. You'll find even more success with an email signature that allows for instant communication, such as Kite by Wildix.
Social media: Ad campaigns on social media sites are a great way to reach new prospects, but it also pays off just to have a presence on these pages. Create accounts for your MSP and post regularly on them (at least once a week), but also take time to engage with visitors
Blogs and web content: Writing articles for your business's website will give you a bigger online footprint and demonstrate to prospects that you're an expert in your field. Just make sure your content is relevant to what your target audience wants to know from your business.
Referrals: Customers trust other customers far more than they do salespeople, so getting your business referred is one of the best marketing strategies available. Make it easy to refer your MSP with active digital campaigns, or even incentivize referrals with discounts or rewards programs.
Networking events: Being known in your local market is key to being successful in it. When starting out especially, make appearances at your area's business events and organizations, even ones not directly related to UC&C. Simply being active in your community can make a huge difference in how your brand is received.
And of course, all these forms of MSP lead generation are essential to keep conducting on an ongoing basis. Simple though they all are, these strategies are regular sales activities even for the biggest digital communications providers out there, so SMBs especially can't afford to skimp on them.
That said, there's more to building your MSP for growth than looking for new leads over and over and over.
Going Beyond Lead Generation
Once you've brought a few prospects on board, the first thing you'll probably start wondering is how you can go about getting more. And that'll be perfectly natural. After how to be a managed service provider to begin with, the question of how to generate more leads is one of the most pressing questions an MSP will ask themselves.
After you've established a base, however, that thought isn't nearly as important as you may think. By that point, the most important question on your mind isn't how to get more leads, but how to stay connected to the customers you already have.
To begin with, you should be selling your customers on subscription-based models — that is, selling your technology as a service, charging your clients on a month-to-month basis. This will mean you earn Monthly Recurring Revenue (MRR) over time, rather than one burst of income, which will ensure your income stays predictable and your finances become far more manageable.
Worried that'll sound like an upsell to customers? Don't be. Not only are subscriptions for phones entirely the norm, end-users also realize they get significant benefits from buying them that way.
Some of the biggest of those include:
More convenient updates: A subscription model means system updates can be installed remotely and automatically instead of on-site.
Better security: Patches and vulnerability updates are applied immediately under the subscription model, reducing the possibility of a breach.
Greater flexibility: Under a subscription service, consumers can change the number of seats and the level of licensing they want from month to month, giving them greater ability to adjust to sudden changes.
With subscriptions in place, it also becomes far easier to upsell customers as they notice the impact of your services. Some months in, your new phone setup should be saving your clients time and money, and maybe even have given them some fancy new advantages they're excited about. As the best MSPs out there know, it's well worth reaching back out to them to see how they're doing, where things are going well and where things can still stand to be improved.
Regularly touching base that way and gently moving customers to upgrades will net you more and more revenue every month, and it'll bring it far more reliably and easily than constantly bringing new leads in your pipeline.
Again, your main appeal as an MSP will boil down to the services you provide. If you lean into those services effectively, you can scale up your income just by staying consistently valuable to your existing customers, only rarely having to dip into MSP lead generation processes.
Work Smarter (Not Harder)
Of course, this isn't to say that building an MSP company in any market will be easy. It still takes a lot of legwork to land those initial leads, to say nothing of actually winning their signature on your contract.
That's a big reason why we recommend building relationships with your existing customers over seeking out new ones: it's just plain easier to grow your income by working with a growing client, gaining more MRR as you find room to upsell and increase their seat count. Per hour of work, it's just far more efficient in terms of output.
Working smarter at your MSP enterprise — not necessarily harder — is what will build it up for lasting success. Relevant tools and software sold to the right customer will establish long standing, profitable relationships that will fuel your business for far longer than a few big sales every six months, and working that closely with just a few clients will also make sure you never stretch your fledgling MSP company too thin.
If you can introduce your customers to entirely new ways of working their communications, then all the better. Moving them to the cloud, to remote working or to automated software may take a bit of convincing. But the benefits of those upgrades and pride at being equipped with the latest tech will mean you'll have earned a satisfied client for life.
The Vendor for the Job
All this being said, to set yourself up with a stable foundation, you'll also need to partner with the right technology vendor. And this path is rife with pitfalls, because the harsh truth is, a lot of vendors out there simply aren't interested in working alongside you under a valuable MSP platform.
If the vendor sells directly to customers, for instance, that only serves to undercut your own sales and maintenance. And if their portfolio of solutions is confusing or disjointed, it'll make things that much more difficult to sell the solution on your end.
Wildix, meanwhile, takes care to avoid these and worse complications in our vendor partnerships. On top of never selling Wildix solutions direct to customers, Wildix partners with MSPs on how to present the technology to prospects, especially how to position your solutions as month-to-month subscription purchases.
In other words, Wildix works creates an MSP platform that functions exactly how it should: by setting them up for long-term growth.
Check out all the benefits of partnering your MSP enterprise with Wildix here.
Built for Growth
As important as it is to understand effective MSP lead generation strategies, these often play a smaller role in growth than business owners think. To really set yourself up for growth, look at how your business is positioned, as well as at your relationship with existing customers.
That element of positioning can't be understated, either. When you ask yourself, "What is an MSP company?", it's essential for your own growth that you answer based on services — not just with the usual MSP software and devices. Leaning into your expertise this way will keep you on the same page with knowledgeable customers, but it will also differentiate your business from your cheaper B2C competitors.
Better still, when you put your services first, you'll dig into an easy way to keep clients coming back month after month with constant purchases. Once results of your setup have enough time to be felt, your customers will see room to grow, translating to more licenses and even upsold solutions on your end. That's of course on top of the MRR you'll earn, which makes sure your business income stays nice and predictable every month of the year.
Building yourself for success as an MSP means building yourself for growth, from the very outset of your company, and that means looking at far more factors than lead generation. Lean into your services and how they can improve the business procedures for a select few customers, ones who stand the most to gain from the expertise only you provide.
As those prospects grow, you will, too — working smarter, not harder, the way Wildix has seen bring major success again and again.
For more insight on cybersecurity and tech, subscribe to receive our magazine for free!