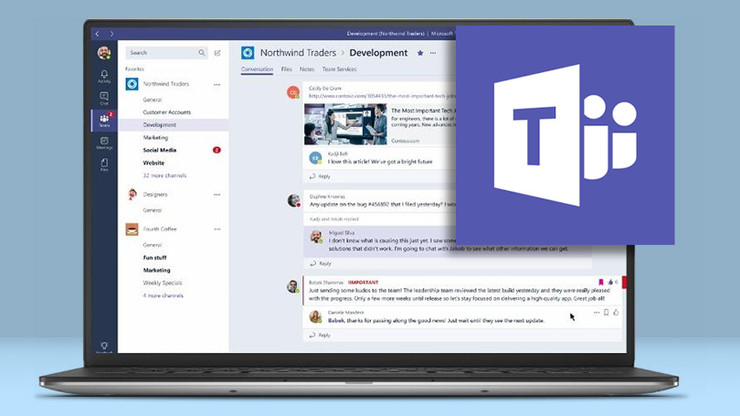 Recently released in 2017, Microsoft Teams is storming the market space, currently with 13 million weekly users, and now one of the biggest workplace chat apps, surpassing Slack and Google Hangouts.
Increased growth of Teams is causing uncertainty to some Vendors who recognise Teams as direct competition to their business interests, thus revenues.
We decided to bring up this topic within our Ecosystem and speak about Teams, their possible influence on Channel Partners and the industry. 
We interviewed Tech Guru and Technical Director of Taurus Clearer Communication, Richard Whybra.
STRENGTH 
One of the things Microsoft has been trying over the years is working towards a fully integrated desktop. What they've done with Teams is, to a certain extent, is to have a single location where you can operate your email, texts, voice and video, etc.
WEAKNESSES 
Despite all the capabilities, there is still a lot of confusion around the perception of Teams; there are many areas that users don't realise Teams struggles with, and that is the problem.
Teams – is a powerful platform capable of numerous functions, but there is one crucial aspect they miss – Teams has Limited Voice functionality!
In addition, there any many standard functions they are lacking:
Inability to transfer calls to extensions or numbers (only Users)
There is no call barring functionality
No Call recording
Limited auto-attendant and call routing
No centralised call reporting
Another big disadvantage of Teams is that enabling Voice in Teams is very expensive, complex and it doesn't work very well.
SOLUTION & BENEFIT 
Many of our Customers are using Teams, but they do not like the Voice aspect, so we ended up cooperating with a specialist company in Bristol who worked with us on the Teams Integration with Wildix, so that both solutions could work seamlessly together, complementing one another.
As a result of this integration, we are now negotiating with multiple 1000+ User opportunities, where Wildix and Teams complement each other, rather than compete. Instead of competing with Teams, we're now enhancing teams with Wildix, making the most of the two solutions, therefore meeting client's requirements and business needs.
When I hear some industry colleagues asking about how to compete against Teams, I say don't, just INTEGRATE!
Benefits:
Enable Calling in and out of Teams through Wildix
Customers can use MS Teams as their Endpoint
Use Wildix with existing call-management, control, minutes and numbers
Call Reporting and Recording Maintained
No Complex Microsoft Architecture
Setup in Minutes
Make and receive calls in Teams using the Browser, or Apps for Windows, Android and iOS
PSTN Calling through the Wildix ensures every user can make and receive calls, with control – a true enterprise voice solution
Collaboration and Voice together
Call Reporting and Recording Maintained
True, unfettered user experience
You can keep all of your existing structure and all of the call distribution that you have within the Wildix system. You can utilise the call recording function, the text to speech function and all these features are available to use. The key advantage is that all of this is kept in history within Teams!
All the above-listed benefits are very important, especially in Call Centers environments!
And this is another disadvantage of Teams, they do not have the Call Center Offering, so by using Wildix and ipSCAPE (Cloud Contact Center Solution) Integration, you can have a fully operational Call Center within Teams.
SUMMARY 
By bringing these two products together to work, you have a very powerful platform to use, turning the possible competition into profitable cooperation, and this is what counts at the end of the day- your customers are happy, and your business grows!
As once said by Michael LeBoeuf (business author and former management professor at the University of New Orleans) – "A satisfied customer is the best business strategy of all!" 
Which basically means, don't look for competition, look for opportunities you can create for your customers, thus for your own business!
Wildix & Microsoft Teams Integration: https://www.wildix.com/microsoft-teams/