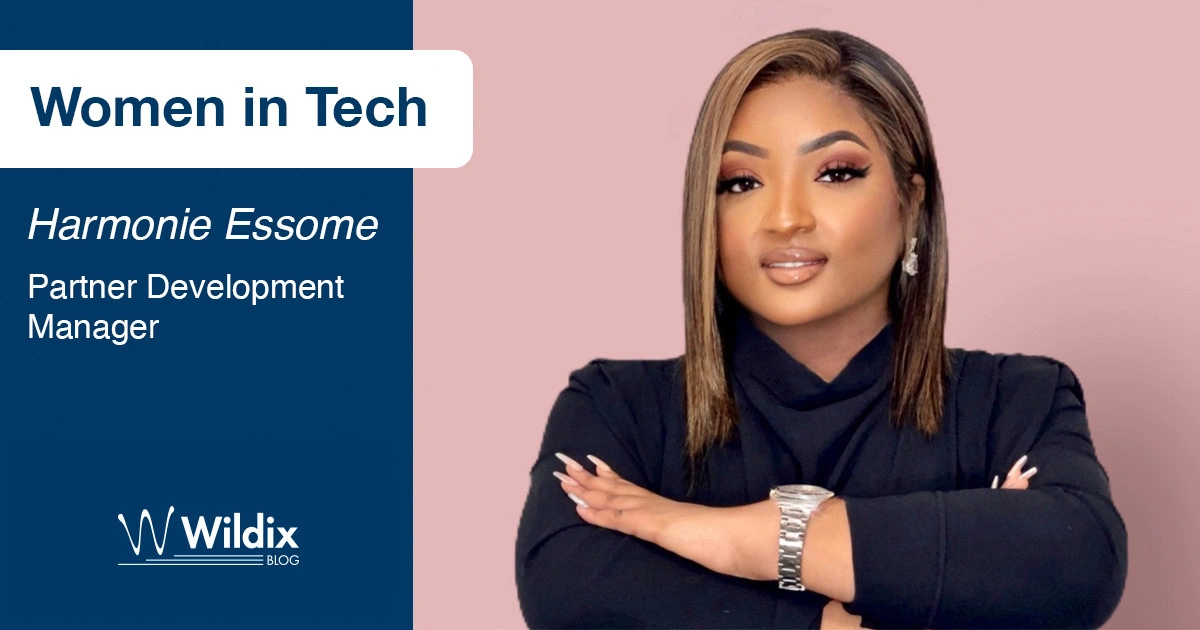 Wildix is building a diverse workforce of people around the world. One of the key benefits of our working ethos is that we encourage people to work from anywhere they can, and we also offer a variety of working options. Harmonie Essome is a partner development manager contracted to Wildix Germany via her own company in Dubai. We caught up with her to have a chat on her perspectives on Wildix, Germany and being a black woman in tech.
"I was born and grew up in Yaoundé, the capital city of Cameroon," she says. "We were a middle-class family. It was a typical African family — we used to walk to the well to get water, and we'd put buckets outside to collect the rain. For me, I grew up in that environment, in a very Christian environment."
"I barely knew my dad as a young child as he'd left to study in Germany when I was 4 years old. When I was 7, my parents made the decision for me to move to Germany for better opportunities, where my father worked as a systems engineer. Suddenly I was traveling on an airplane by myself. I left everything behind — my mum, my grandmother, my family. Then I landed in Germany — never seen white people before, or infrastructure like that, or a road, an elevator. I was in complete shock."
Harmonie had grown up speaking French, and her bonus mother and bonus brother both only spoke German. She had to learn the language of her new country rapidly. "Fortunately, I have a skill with languages, so I learnt German very quickly," she laughs.
But travel became an important part of Harmonie's life. The United States offered more opportunities, prompting her to move there. "I studied Business and Communications at Lindenwood University in St Charles, Missouri. It's right in the heart of the United States. The Midwest is a great place to understand the whole US — you have a mix of the east, the west, the north and the south."
Harmonie then moved to Coventry in the United Kingdom to further her studies, obtaining her master's degree in business marketing, advertising and branding. "Coventry was close to London, Birmingham and Manchester but not too close. I wanted somewhere that was well-connected but quieter than the big cities. I didn't know anything about the UK; I looked at a map and thought, 'This is a really strategic city to be in'!"
The Start of Harmonie's Career
A job at FedEx would follow, focusing on sales for healthcare accounts, then with Cisco and then Zoom. Cisco proved to be a big introduction to unified communications.
"My father was one of the first systems engineers for Cisco in Germany, and I grew up within the Cisco environment. I applied to the Cisco Sales Academy. Out of 7,000 applicants, I was one of the 13 who made it — and the only one trained as a SaaS sales specialist. For me, it was the era of Webex, which the company had acquired in 2007. For everyone else, they were trained on the full Cisco portfolio, without specialisation."
Within Cisco, Harmonie built up her role within unified collaborations and communications. In the UK, she was a partner manager focused on business development in the EMEA team with a team goal of $200 million, and then in Germany, she became the regional account manager for midsize accounts. She eventually became the global account manager for Vodafone, responsible for $26 million in global revenue. But something was missing, so she decided to leave the company. "I went to Zoom because I was looking to join a more startup environment," she states. "I wanted to be able to have an impact on the company, not just be another salesperson. In Zoom, I could actually utilize my knowledge, my experience — everything I'd learnt at Cisco — to run a software business, to bring a product to market and launch it. Zoom was the right place to build those skills."
When COVID happened, however, Zoom grew incredibly fast. Overnight, it became the tool that thousands of businesses relied on to conduct their day-to-day operations, something that the company wasn't prepared for — as founder Eric Yuan admitted in an earnings call in 2023. Stock grew from $72 to many times that, resulting in a lot of money flowing into the company. But again, something was missing.
"The company had to accommodate this growth very rapidly. It was a really lucrative place to be in, but when it comes to career development — the whole reason I went there — didn't happen. I wasn't able to grow with the company the way I wanted to."
Changing to Wildix
Wildix proved a draw. Instead of being a rapidly expanding company, growing beyond its abilities, it was a much more stable and focused company that could offer career development. "I saw potential. It understood what the market was demanding, indirect sales, solid products and there was a good R&D team. For me, it would let me grow and build a business — and importantly, I speak three languages: French, German and English. I've also lived across multiple continents: Africa, Europe, North America and Asia, specifically the Middle East. All this gives me a huge range of experiences to connect with and ultimately grow different markets."
For Harmonie, building up the Wildix brand in the German market was critical.
"The German market doesn't tend to jump on trends. They take their time, they're patient. They don't take as many risks as the UK or the US do. Once they understand the technology and commit to it, though, they are absolutely committed — brand loyalty is huge here. Topics such as data privacy, regulations, GDPR and everything in between are all very important. You have to show that your product works for the German market, not how it works for other markets. It's complex, especially as far as end-users go."
"Being Afro-German in the DACH region means that we have a very different perspective, and unified communications is a very white male-dominated field, especially within Germany and Austria. Even the leadership perspective has been male-dominated for a long time, including how to approach sales and manage sales teams. Being a woman means I have been able to apply different methodologies to sales, focusing on a collaborative approach. I want to create a win-win situation for us both, not try to dominate the conversation."
"However, I have to show that it is possible to achieve targets with that approach. ValueSelling is very important to creating this collaborative sales environment, one that Wildix lives and breathes."
It's not only Wildix that uses ValueSelling, though. The company offers training sessions to support partners in learning more about the systems to give them the tools to sell our products.
"What I've seen so far is that sometimes there's a lot of heavy lifting in the beginning — some of our partners have been in business for longer than I've been on this Earth! So I come in and get them on board with the new approach, which can be challenging at times. Change management is a critical part of my role here. They often see the benefits of this approach quickly, though, allowing me to help manage them as a representative of Wildix. It feels good."
Attracting Diverse Talent in the Workforce
One of the biggest challenges for businesses now is not attracting a diverse workforce but retaining them. Cultural assumptions and beliefs on how people should act can often drive diverse talent out of companies, and it's a problem that some HR teams have struggled with. "Many companies don't understand what it means to be diverse," Harmonie notes. "A lot of us speak three different languages and even have multiple passports. They don't understand that 'You can work here, settle in this country — we'll give you a car allowance' doesn't work for people like me. They never ask the right questions, so they go off what the book says or what they think they already know."
"Even a retirement plan isn't attractive because we're building wealth in multiple countries. They need to sit down and actually ask what women like me actually value to improve retention."
Only 22% of roles within tech are occupied by women, with the percentage of black women sitting even lower. We ask what would attract more diversity in the workplace, particularly from those with backgrounds like hers.
"For me, the flexibility to work in multiple countries is a big bonus," she states. "That's where remote working comes into play. There's also cultural flexibility. For example, I wear wigs, like many black women. Our hair texture is very different, and the cold can break our hair. It's also common for black women to change hairstyles every two or three weeks, and there are specific braiding styles that are highly cultural. A lot of black women struggle with that and try to keep to a certain image in a corporate environment. This needs to be addressed in a welcoming space."
"Similarly, aging for my culture is nothing — it's not something negative. We're proud of our age. Aging means that you're wise, smarter. It's really important for companies to understand that for many black women, it's important to show age — it's not a sign of letting yourself go. We're also much more body-positive — we accept people regardless of size. Body-shaming is more of a Western phenomenon. It's vital companies look to address these topics."
"It's beneficial for companies to address these issues as the wealth of talent out there is incredible. If they lack a plan for this, they lose out. Diversity and talent are the future, so it's necessary to talk about these topics."
When it comes to how Germans treat cultural differences, Harmonie is very clear.
"I grew up in a German family and had the privilege to experience German culture from within my family," she says. "One thing that stood out for me was that the German culture is based on merit — once you get noticed, you build a platform, you blow people away and I find they look beyond my skin color."
"There's always a bit of resistance — it's natural. If I go to a boardroom meeting with a major company, they might not be used to seeing a black woman sitting at the table. I'm also only 160 cm (5'3), and I look like an African woman — because I am! Sometimes the initial attitude is one of 'What are you doing here?' but I brush that off. I'm here to stay, and there's nothing anyone can do about it. That's why I'm passionate about sharing my story so that seeing a black woman in the boardroom no longer is surprising. It's about taking over the energy in the room. These situations can either make you or break you. I don't shy away, and I'm resilient. They can't hurt me anymore."
"But within Wildix, I'm able to be my authentic self — and Mike, the country manager for Wildix Germany and Austria, has been very supportive. Our mentoring relationship has really grown, and it's enabled me to be my best self. I'm building my partners up to become more strategically aligned with Wildix — my empathetic management approach starts with a vision, a mission and a concrete plan to generate a prosperous relationship. This creates a win-win situation for everyone and a belief that we're all going places, which we are. And I am too."
For more insights, subscribe to receive our magazine for free!