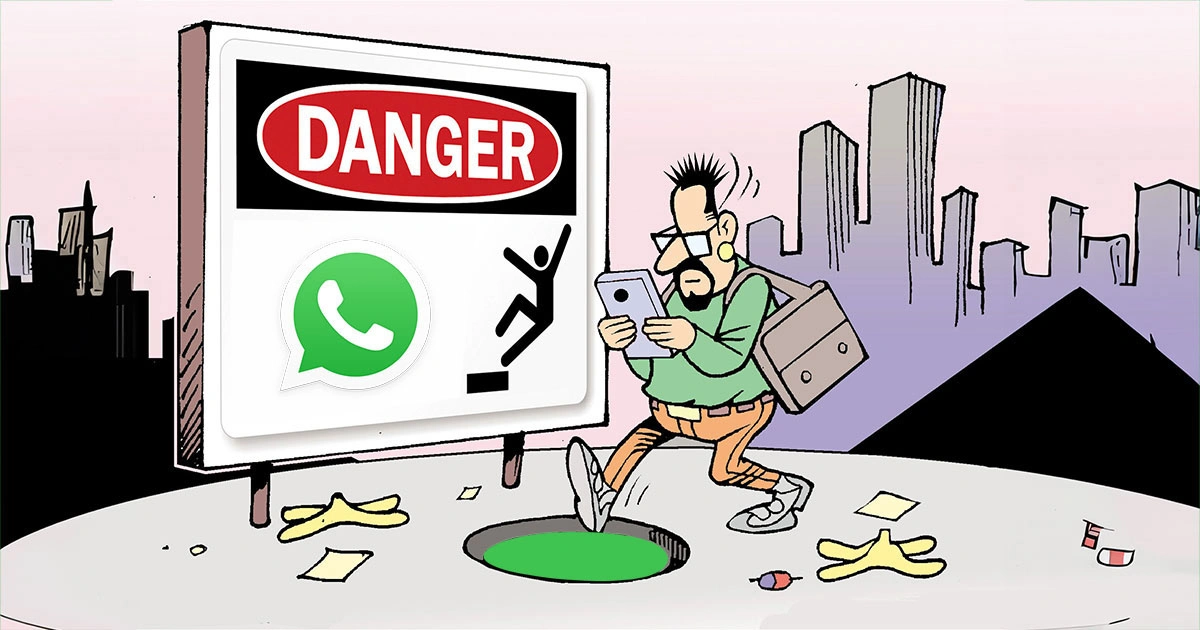 One of the most popular communication apps is WhatsApp, with approximately 2.7 billion monthly users sending 100 billion messages each day. It has permeated most people's lives. Yet the app is not only being used for personal use. Thousands of businesses use it in combination with other applications, but this has led to huge problems for those who need to remain compliant with laws around transparency. It's also an issue for MSPs who need to convince businesses that it's one of the least effective tools for communication.
WhatsApp: A Lack of Accountability
The key advantage of WhatsApp is that it's easy. You download it, add your contacts and away you go. You have instant access to a powerful communication tool that only needs a telephone number. It's backed by Meta, the corporation that owns Facebook.
But that ease of installation is a problem. Anyone can create an account, and each person manages their own account. This means they can choose to delete messages, which is problematic from an accountability point of view.
Over the two years, numerous issues have arisen as a result of government officials using the messaging system to communicate with each other. And some routinely deleted messages, even though there are strict laws surrounding government communications.
The same issues arose for Morgan Stanley when regulators fined the company £5.4 million for allowing private messages between traders in defiance of rules intended to promote transparency and prevent insider trading. These fines reflect the seriousness of the matter and result in completely unnecessary expense for companies. A communication system that was fit for purpose would've easily solved that matter, protecting the company's reputation and its finances.
WhatsApp: The Overarching Issues For Businesses
WhatsApp is often used in conjunction with Teams. The argument is that Teams is included anyway in Office 365 (except it isn't anymore), and WhatsApp fills the gaps. Unfortunately, it doesn't. Instead, it makes many business problems worse.
MSPs can define the issues with WhatsApp in several ways:
Lack of business tools
Lack of transparency
Potential for misuse
Lack of business tools
Where WhatsApp really falls down from a business perspective is in its lack of business tools. There's no way for businesses to:
Create hierarchies for roles in the organisation
Manage chats centrally
Link to CRMs and other business tools
Recover lost data
Enforce accountability
Because there's a complete lack of integration between WhatsApp and CRMs, you risk losing information if the salesperson doesn't put conversations and agreements into it straight away. You can't integrate helpdesk software easily, and it becomes a highly limited tool.
Then you have scalability issues. This means that large groups struggle to communicate effectively through WhatsApp, especially when they hit group limits.
There's also no user hierarchy for creating roles within a chat environment, even with group chats. This lack of central control means that data cannot be transferred immediately by the company if the phone is lost, either. This is why hierarchies are needed. Someone has to be able to go into a business chat and ensure that information can be recovered if necessary. "It works for us" is fine … right up to the point it doesn't.
Lack of transparency
Partly as a result of the issues with data tracking, it's hard to enforce compliance with GDPR and data collection regulations with WhatsApp. If a file is sent to a phone via a private WhatsApp chat, for example, it's difficult to trace, especially if both parties leave the company. Without adequate record-keeping, companies risk becoming non-compliant.
From a sales perspective in particular, a lack of transparency means that salespeople can hold up deals, break sales pipelines — especially when they're on holiday — and take information away with them if they leave. That's because WhatsApp is linked to personal numbers. Even if the number is a business number, it's easy for a staff member to ignore that requirement and use their personal mobile number instead.
Finally, it can be difficult to manage information, especially in large groups. This results in information getting lost in large group chats and confusion occurring. It can also be difficult to see who has communicated what to whom.
Sure, it's difficult to manage private communications between people, but businesses need to put in place protocols that ensure all business communications must go through an appropriate system. That creates greater accountability for all parties involved. Otherwise, you end up with a lack of transparency.
Potential for misuse
From an internal perspective, WhatsApp groups are a problem. It's impossible to verify WhatsApp messages between colleagues, which creates liability. It can reduce the ability of colleagues to actually switch off at the end of the day, leading to burnout — and this results in increased staff turnover. A blurring of work and personal life can be problematic.
There's also the risk of data simply being stolen. Without access to the phone, it can be difficult for businesses to mitigate the risk of data theft when the device is lost. And from a security point of view, there are legitimate doubts about WhatsApp's encryption.
Similarly, without transparency, there's a much bigger risk of inadvertent sharing of private information. This can create heavy liability for companies, especially those who need to handle sensitive information regularly.
The issues above occur because businesses have a communications solution that doesn't meet their needs for transparency and openness. Worse, it's harder to convince clients — especially for sales companies — that you're a serious business if you're handling queries through WhatsApp.
Most businesses know that, so they use WhatsApp purely as internal messaging. But that's just as bad, as noted above. Although messages are (kind of) encrypted, it's not especially robust, and there may be significant backdoors that expose data. It puts control only in the hands of the user, again, and when issues arise, they're impossible to track and trace.
Businesses Need Business Solutions
Ultimately, businesses need powerful business solutions. These include a full suite of business tools that work on both mobile and desktop, and they need to be able to access the underlying information whenever it's necessary. If someone leaves, they cannot be allowed to take their contacts with them.
Even more importantly, those solutions must have the same level of convenience and be integrated into your CRM, your ERP and every other system while also delivering a great mobile experience. All this allows better efficiency, letting you capture more business and ensure complete security as you have a complete product that's designed for business.
As an MSP, it's that additional value and security that helps you win business against a "free" app.
For more insights on the UCC market, subscribe to receive our magazine for free!