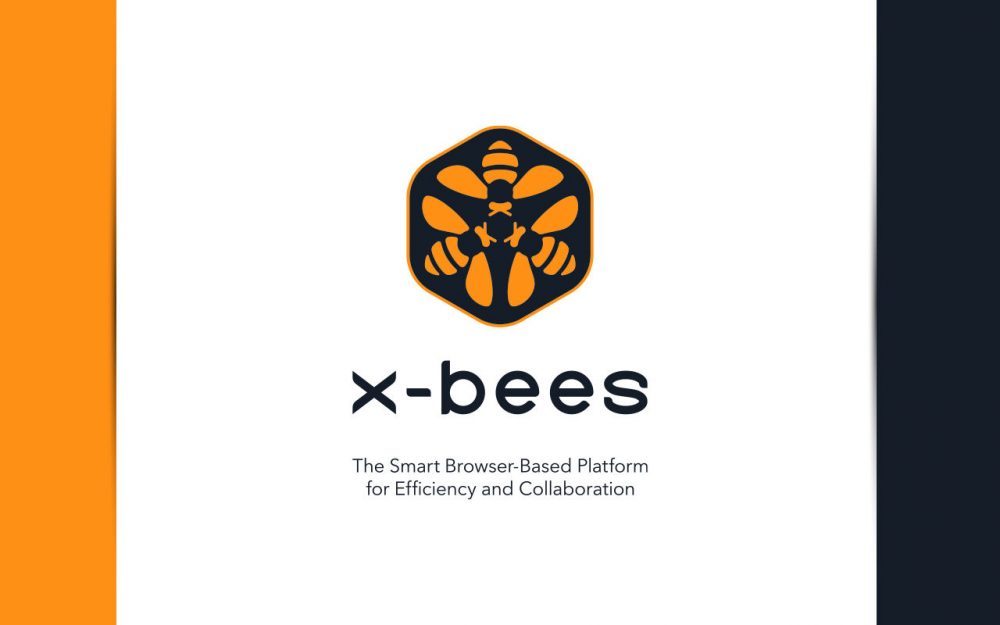 Essential info on Wildix's rebranded collaboration tool
Whether out in nature or in the heart of the city, collaboration is pivotal to completing any project. This isn't something that we've just discovered, of course — it's the longstanding philosophy of UCC as a market. However, as communication becomes more valuable in our daily lives, it becomes more important to design better and better tools to achieve it.
It was with this philosophy in mind that we at Wildix created our newest tool, x-bees.
What is x-bees?
x-bees is a React-based UC&C solution with a value statement hidden in its name. Bees, of course, are animals that thrive because of their ability to collaborate as one unified hive; the name "x-bees" therefore reflects our desire for the tool to bring businesses similarly unified efficiency.
For another definition, x-bees is a single streamlined tool for all of a business's internal and external communications. By using x-bees, businesses will be able to operate in unison, communicating and collaborating within one unified platform.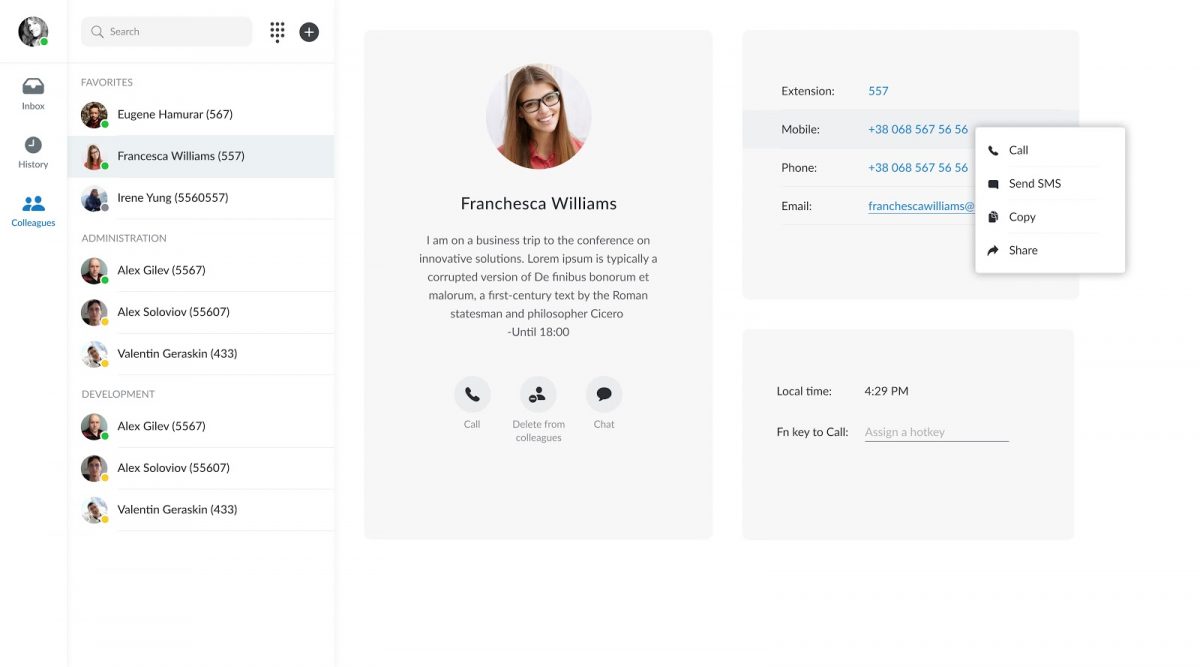 However, to best describe this solution, we should consider the value it delivers for businesses.
What's the Value of x-bees?
Although x-bees acts as the central communications hub for a company, this isn't just so colleagues can easily interact for any given purpose (although this is a benefit of the solution). Rather, it's specifically positioned to help drive sales.
In particular, the purpose of x-bees is to:
Improve interaction with leads and increase conversion rates
Align internal and external communications
Integrate sales and support tools for collaboration
Provide effortless reporting on calls and messaging
Simplify organization management
All of these goals relate directly to the sales process, in particular the step of lead management. This allows the x-bees platform to achieve a more specialized purpose than its predecessor, Collaboration, and consequently attain a more recognizable value.
Why Do These Goals Require a New Solution?
Aside from branding, there were a number of significant reasons why Collaboration couldn't simply be revamped to achieve this specific value.
From a usage standpoint, the old Collaboration platform was effectively a WebRTC PBX with productive (yet by now standardized) UC&C features. While this was initially effective for businesses, other vendors have since created similar solutions. To re-establish the positioned value of the Wildix solution, it therefore became necessary to design an entirely new platform.
This is because, being designed from the ground up to solve specific business issues, x-bees provides improved business value from a foundational level not as a result of updates, but through right from its initial release.
How Does x-bees Achieve Its Value?
In addition to this improved architecture, x-bees features an enormous number of technological improvements that are tailored to improving business collaboration in the context of sales.
Some of the most significant of those features include:
Search function in chats
Improved chat sync
Reactions to messages
Edit and delete messages
In-line quoting and replies
Unified view of unread messages, missed calls and voicemails for groups
Mute function for group chats
Ping function for individual users in group chats
Ability to contact people outside your organization
Support for 1,000+ contacts in roster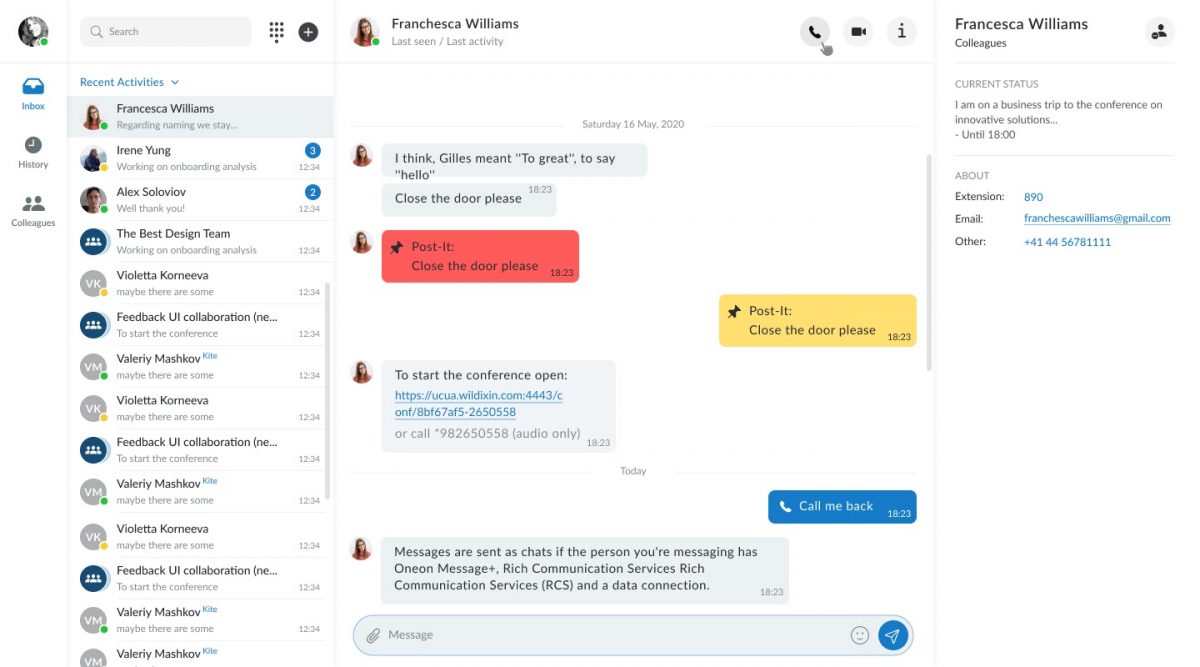 x-bees supports all these advantages primarily because it is built from the ground up with React and React Native, the Javascript libraries used by such major apps as Facebook Messenger and Salesforce. (For more info on this technology, have a look at our previous blog post.)
In addition, x-bees is able to immediately identify leads and customers when they visit your website, then instantly connect them to the last person or people from your organization they spoke with. This is achieved because the system is built using Amazon Cognito, a tool that adds user sign-in options to any website or contact page. x-bees also has the capability to initiate contact with customers from the company's end, rather than being limited to waiting for contact from web visitors.
x-bees also features a single, unified UX design across desktop and mobile versions, as well as an improved data sync to ensure no downtime when users switch devices. Furthermore, the x-bees software works separately from the user's PBX, meaning even when the PBX encounters an error, the solution will continue to run smoothly.
The primary advantage gained from this collection of updates is a reduction of time wasted on everyday business activities; by directing all company communications to the unified, highly efficient interface of x-bees, employees will each save 25% of time spent on previous unoptimized operations, leaving more time to focus on other sales-relevant work.
The Greater Benefit
Again, as proud as we are of all these individual aspects of x-bees, the real value of the platform lies in what businesses can do with it as a total unified solution. With a simple, user-friendly design that's consistent across all platforms, x-bees is designed to be picked up and used right away with minimal training, ensuring quick adoption.
But the value of x-bees is highly specialized as well; it functions as the driving engine to complete the lead management step of the customer journey, giving companies the ability to collaborate on different jobs toward the singular goal of engaging and converting the customer.
These benefits, combined into one solution and spread out across an entire organization, serve to simplify and streamline sales processes during their most delicate periods. The value of this ability is simply astronomical — and we believe that x-bees will make a huge buzz with customers as a result.
Want to know more? Discover even more info on x-bees on our website.
For more tech news and marketing tips, subscribe to receive our magazine for free!