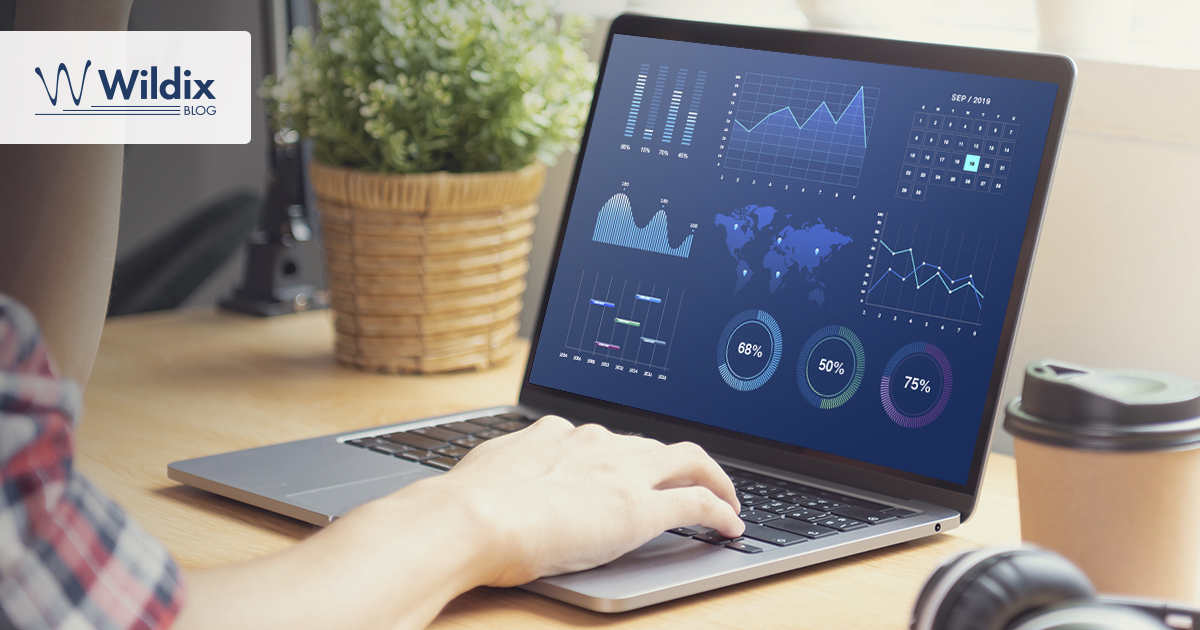 Communications are a core pillar of any business. That principle is more than just ideology: it's the driving idea behind the unified communications and collaboration market and its rise to enormous heights of value worldwide.
The unified communications industry comprises mainly vendors and solutions dealing with communications over digital channels. Although the industry does develop hardware, it primarily entails software for digital chat, voice over internet protocol (VoIP), video conferencing and similar real-time communications over the internet.
As simple as this overview is, what's actually driving the industry is far more complex. Here, we'll clarify the main unified communications and collaboration market trends pushing the market forward. Additionally, we'll describe the role unified communications market leaders play in directing that growth.
Financial Gains in Unified Communications
As the global unified communications market itself has achieved enormous growth, unified communications industry trends must be considered in light of the overall direction of that market. This should include growth for unified communications as a service (UCaaS), or communications technology on a monthly basis with additional benefits provided (such as automatic software updates, faster access to troubleshooting and repairs, etc.).
As we can see from a spending forecast from Gartner, digital communications represent over a quarter of industry IT investment worldwide. As a result, the unified communications and collaboration market stands to grow simply alongside further technology purchases.
Worldwide Spending for IT in Millions of US Dollars
| | 2021 Spending | 2021 Growth (%) | 2022 Spending | 2022 Growth (%) | 2023 Spending | 2023 Growth (%) |
| --- | --- | --- | --- | --- | --- | --- |
| Communication Services | 1,444,324 | 3.4 | 1,462,712 | 1.3 | 1,494,167 | 2.2 |
| Overall IT | 4,401,944 | 10.2 | 4,534,632 | 3.0 | 4,809,561 | 6.1 |
(Source: Gartner)
Also of note is that the UCaaS industry experienced a massive rise alongside the larger trend of cloud migration and the use of hosted business tools. As this market experiences its own increase (especially following the 2020 Covid-19 pandemic), the UCaaS market forecast likewise trends upward.
Coming off this growth, UCaaS as an industry is likely to continue expanding, reaching a worldwide total value of $53.5 billion by 2030 according to Gartner.
Key Uses & Drivers in the UCaaS Market
Apart from strategies implemented by unified communication market leaders, what particularly drives unified communications and collaboration market trends is the development and application of industry technology.
Especially relevant to the sector are voice over IP, video conferencing and unified messaging capabilities. These functions in particular have readily applicable usage across a wide range of verticals, making them a core element in the market.
Important to note when surveying industry technology is the role played by the mobile unified communications market in particular. This sector is characterized by the use of smartphones and other mobile devices, but despite this segmentation, it is especially relevant to business needs for on-the-go communication. As such, leadership in mobile communications will often signify which vendors stand out as UCaaS market leaders.
More specific uses and drivers behind the unified communications and collaboration market's trends include the following:
Working from home
Easily the largest unified communications and collaboration market trends is the use of technology for remote working setups. Although working from home has long been a desirable option for businesses among employees, the 2020 Covid-19 pandemic turned this assumed perk into a business necessity practically overnight.
Through that new standard, businesses everywhere found enormous use in the unified communications industry, driving immense growth in the field. Even today, work-from-home capabilities remain one of the most common driving trends in the communications industry.
Hybrid working
Greater flexibility in work setups has also greatly caught on among businesses, forming the practice known as hybrid work. Under this setup, employees can work from any location, but also freely come into their business's office for in-person collaboration.
As a hybrid working setup requires much the same technology as work-from-home capabilities, it too has become a significant ​​unified communications industry trend. The mobile unified communications market is especially important for this trend, as it presents a convenient way of collaborating on the go.
Cloud migrations
As said earlier, an enormous business benefit provided specifically by UCaaS is that of cloud operations. As organizations migrate to software and networks hosted by external providers, it only becomes natural to do so for unified communications solutions as well.
Since before the 2020 Covid-19 pandemic, use of the cloud has been a significant part of the UCaaS market forecast and a key indicator of industry leaders.
Big data collection
Data drives company decisions, especially within the information age. As companies trend more toward integrated data gathering, it has become useful for the global unified communications market to offer it in their solutions as well. As a result, providing big data collection and analytics through web-based communications serves as an important industry driver and even differentiator.
AI & IoT integrations
Similarly, unified communications solutions grow more applicable to organizations as they utilize more AI-powered technology and IoT devices. AI solutions and operations can include auto-dialers or data analytics functions, which dramatically improve the productivity of any business that makes use of communications. IoT integrations, meanwhile, can enable staff to operate anything from doorphones to timecard websites through a unified interface.
As both AI and IoT expand, additional opportunities for integrations present themselves, and thus the UCaaS market is expected to continue expanding as new functionalities are developed.
Security
Any component connected to the internet must incorporate security. As a result, unified communications is also driven by advancements and expertise in user protection. Security matters enormously to any business, regardless of the type of organization or size, and UCaaS solutions that implement security effectively will be consistently valuable across verticals.
However, security can also hinder growth in the industry, as poor implementation will easily create concern among consumers. A ready example is the widespread practice of Zoombombing, where Zoom video conferences are broken into by hackers. This phenomenon damaged the Zoom brand and demonstrated safety issues with internet communications, arguably negatively impacting sales.
Key Sectors for the UCaaS Industry
The unified communications market reaches a wider range of verticals and industries than many initially expect. Although it is immediately useful to small-to-large enterprises with offices, sales teams and call centers, the variety of deployments for this technology makes it a practical investment for additional businesses.
Examples include:
Banking and finance
Healthcare
Retail
Government
Transportation
In light of this wide range of potential clients, a usual UCaaS market forecast takes into account a growing customer base as they emphasize high potential earnings and shares. The rise of cloud-based technology and mobile working likewise contribute, as they tend to push specific industries toward unified communications through consolidating technology.
Main Qualities of UCaaS Market Leaders
To better forecast unified communications and collaboration market trends, it's also critical to consider leading vendors in the industry. Although there are established names present in the industry, for predictive purposes it's more important to consider what makes a market leader at all. This way, it becomes easier to determine which developers are acting in line with expected market growth.
In general, market leaders in unified communications will demonstrate the following:
Unified design
As the industry is defined by a unified approach to communications, it should be no surprise that UCaaS market leaders feature unified design in their platforms. This entails a single platform with a wide range of capabilities: telephony, video conferencing, instant messaging and meeting capabilities should all be available within a single, easy-to-use interface.
Accessibility
Having an approachable, user-friendly interface is key to the adoption of any business solution, and UCaaS is no different. As such, any lasting market leader in unified communications should have a platform that can be understood and used by a workforce with minimal training during rollout.
However, "accessibility" here should also refer to how easy the solution is to actually access via different devices. In line with the continual demand for smart and hybrid working, leaders in UCaaS must have a solution that can be easily accessed through many different devices. This bring-your-own-device (BYOD) approach should be supported by a consistent design across different versions of the system.
Security
The need for security at all levels is crucial, and it's surprising how often crucial layers of security aren't implemented in many telephony solutions. Truly effective leaders in the industry will be able to consistently defend end-users from cyberattacks of all varieties, both through the initial design of systems and regular updates.
Visionary leaders in the industry will adhere to this idea of protection while balancing it against usability. Rather than expecting clients to rely on external security measures — such as additional firewalls, external SBCs or VPNs — effective developers maintain security within the solution itself. With built-in security measures, UCaaS platforms can remain highly usable and still enforce effective protections, allowing for enterprise-grade safety without sacrificing usability.
Commitment to channel growth
Outside of developed systems, the actual business practices of market leaders in unified communications matter enormously. Easily the most important of these is contributing to the growth of the channel: local providers and installers of unified communications. These professionals have both long-standing expertise in the industry and a wealth of professional connections, making an effective partnership with them consistently beneficial to any UCaaS vendor.
In short, those vendors that foster channel relationships will contribute enormously to their own profit funnel, as well as to the UCaaS industry as a whole.
Open APIs
Appealing to a wider customer base will necessarily require more flexibility in the deployment of UCaaS platforms. To enable this, market leaders should solutions that are easy for channel partners to alter and configure. This is achievable through open APIs in the platform, and having this standard demonstrates a significant contribution to the communications market.
With open APIs, a solution can be altered to have new, situation-specific functionalities within call flows or beyond. They can also be used to introduce new integrations, such as connecting online status indicators to employee time cards. This greater utility represents far more business value for more customers, contributing to both the channel and the overall market.
UCaaS Market Forecast
Given all these prior points, where can we expect the unified communications market to head in the future?
As described earlier, overall financial growth for the global unified communications market is fairly well established. Cloud deployments will continue to dominate the sales in the field, and will continue to dominate when sold as a service.
Regarding solutions and vendors to watch, accessibility and security will be two of the most important qualities to consider.
Security breaches consistently rock the market and create immense damage for those businesses that suffer from them. As cybersecurity attacks continue to increase, it will only become more important that businesses have fully secure UCaaS solutions. Moving forward, complete protection built into communication solutions will only increase in value to businesses, making developers capable of effective security more relevant in the market.
Accessibility will remain just as paramount thanks to the continued demand for remote and hybrid working capabilities in the workforce. Even without lockdowns, employee interest in smart work remains high, and having a communications platform to provide the option will continue to be a competitive advantage in hiring practices. UCaaS vendors with a solution that's truly accessible from any location and on any device will likely continue to make gains in the market by satisfying this demand.
Additionally, how truly unified a given solution is will play an enormous impact on its viability in the market. Tying in with overall usability and functionality, how unified a solution is will determine if it is capable of serving as a central operating hub for company activities. This is crucial as employees work remotely and use additional pieces of software related to their work, such as customer relationship management (CRM) software.
Moving forward, observers should consider these elements in particular for worthwhile unified communications and collaboration market trends, particularly as that market continues to grow.
See how Wildix, recognized by the Gartner Magic Quadrant, lines up with the biggest unified communications industry trends in our free report.
For more insight into the unified communications industry, subscribe to receive our magazine for free!