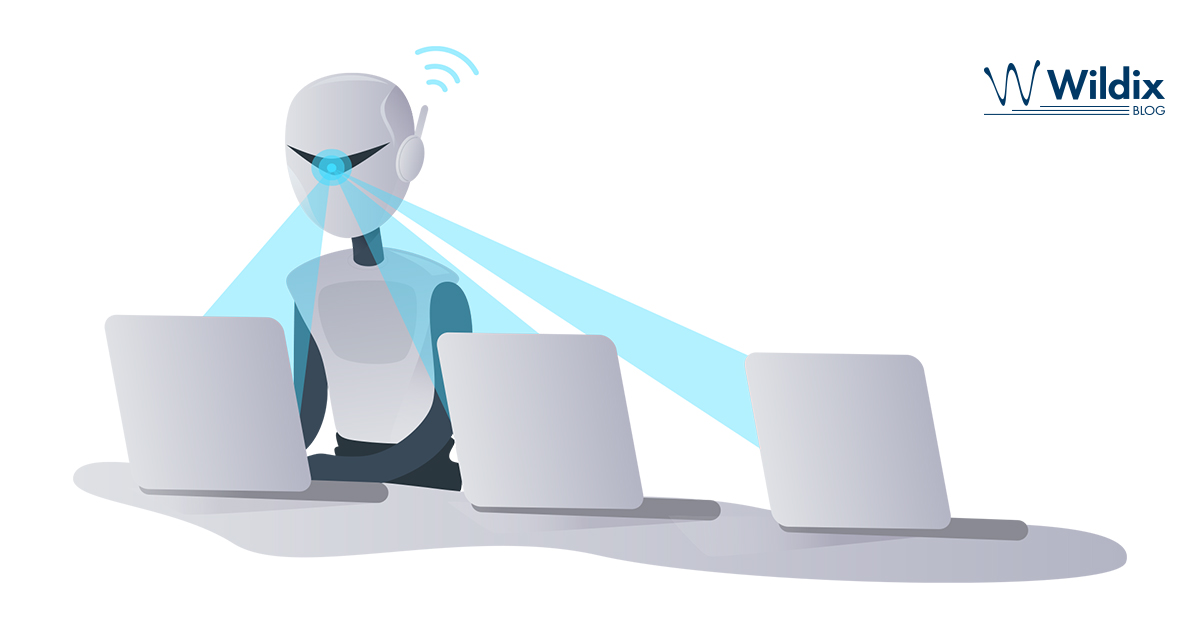 As we said in our previous post, there's no shortage of benefits to process automation. When you let software handle tasks, you speed up your workflow, save money and improve both internal morale and customer satisfaction. Given just how much of a competitive edge the practice gives a business, embracing automation is downright pivotal.
Of course, it's all well and good to say just how useful process automation is — but how does one actually go about using automation for a given task?
This is actually a delicate question to answer, because automating work procedures is critical to get right. If you apply automation to an area where it isn't needed, your return on investment will be less than optimal. Worse, should you do a poor job of automating an aspect of the workflow, the process may end up becoming a sinkhole of time and money spent on fixes.
In this post, we'll give you a simple overview you can use to plot out a shift from manual work to automated simplicity, all while protecting your technology investment.
Before Getting Started…
With all the benefits of automation — from cutting costs to boosting employee loyalty — you may very well be eager to launch into this change right away.
However, remember that automating procedures will amount to a significant change in how your company operates. Relying primarily on technology to do work for you can very well be an investment with huge returns — but just as easily, if the delivery is poorly implemented or if you choose the wrong tool for the job, that investment can be squandered.
So before even figuring out how you'll automate your procedures, take some time to consider what an effective method of automation will look like for your business. This is a bit different from defining exactly what you want to achieve with automated procedures (that will come later). Rather, here it's important to get a sense of how automation tools should function.
An effective automation setup should satisfy five criteria:
The automated process should be:
Efficient: The automated process should quickly and effectively carry out its assigned task(s).
Controllable: Management should be able to at a moment's notice adjust how the process functions.
Secure: The application should be safe against cyberattacks, especially in the case that it has access to sensitive data.
Maintainable: IT personnel, both those in-house and operating externally, should be able to apply fixes to the automation tool in case of errors.
Sustainable: The solution should be able to carry out its task(s) on a regular basis, especially as processes and demand increase in scope.
At any future stage of planning your automation, keep these points entirely in mind. An automation tool that doesn't satisfy these criteria will, at best, underdeliver on your process needs and thereby undermine your investment. At worst, errors and upkeep may sharply increase, even amounting to a negative ROI.
To ensure your automation deployment is worth it, the solution itself will have to live up to these points.
But all that mind, how do you go about initiating that automation?
Step 1: Evaluate Existing Workflows
Before you can fully chart a course to improvement, you have to have a good idea of where you are right now.
Automation is a highly strategic change; its benefits can only be maximized if applied not just in the right way but in the right location within work processes. And although you may already have a good idea of what specific tasks you want automated, you'll only be able to verify the full benefit of that change if you're looking at the full picture of your procedures.
To that end, the first step in automation is to lay out your current workflows in their entirety. If you haven't already, chart out how your projects begin, how they proceed and how they achieve final delivery. Laying out procedures extensively and concretely will establish exactly all of the steps a given project faces before it brings value to your company.
Step 2: Envision Your Goals
Now that you've figured out your existing operations, it's time to think about where to go next.
Here, we can begin envisioning what your company processes will look like once you add in automation: how a given procedure will flow, what employees will be required to do, what will change in terms of product delivery and so on. In planning terms, this is the part where we set goals — specifically, goals that are relevant to the workflows you just laid out.
The most efficient way to make these plans is to envision your new work procedures in terms of results achieved. For example, don't think "I want my contact lists to be filed automatically"; think "I want to reduce time in our customer journey" or "I want to decrease errors when collecting contact information." Framing your goals in this sense helps put the purpose behind your automation first, thereby tying the transformation to concrete business benefits rather than technology (which, as we'll see, is better left after discussions with relevant experts).
Additionally, putting the goals first will make the advantages of automation more achievable in both the short- and long-term. So long as you set these goals with your existing workflow in mind, you'll be better able to implement automation that achieves them. Then, as your business grows, the updated procedures can grow as well with minimal upkeep.
Step 3: Identify Bottlenecks
You may recall that in our previous automation post we mentioned thinking about the process in terms of the workflow it affects. Naturally, this applies to the implementation stage as well.
The benefit of automation isn't just that employees no longer have to do a difficult, repetitive task (as big of a benefit as that is). On top of that, automated processes at their best can speed up entire workflows by effectively removing stages that block later progress. Since this takes the benefits of process automation from one stage of work to the entire project, it'd be a major oversight to not take advantage of the opportunity.
To automate most effectively, then, look for tasks that are both predictable in terms of their results and impactful in terms of their effect on workflow. These are the parts of the project that can be achieved without too much thought but have to be done before work can proceed: think note taking during sales calls or putting data into a CRM.
Even if the examples that fit this category aren't the most glamorous or robust vision of an automated workflow, they're still the ones you'll want to update. Again, the impacts here will be most significant if they extend to the project completion as a whole.
Step 4: Gather Necessary Personnel
As with any organizational overhaul, automation is always a collaboration. Very rarely does one person alone deliver value in a company context, and as such, when revamping a workflow you'll want multiple perspectives to actualize your plan.
To start with, the remap will require those employees who understand your current procedures best, i.e. the staff and management responsible for the task in question. Getting a sense of how to best benefit those employees directly from their experience will put you on a far better path toward optimized automation than thinking about it in the abstract.
Similarly, consider bringing in external technology experts to advise on this deployment. Even after you've considered your own personal workflow and relevant goals, the world of automation is vast and complex. The best way to maximize your investment on an upgraded workflow is by working with someone who understands that field from experience — not by trying to evaluate all the options for automation software internally.
Step 5: Plan the Delivery
At long last, here you can start mapping out how you'll actually deliver on the automation itself. Here, naturally, you'll want to act upon the goals you've laid out in accordance with what both your staff and your hired experts advise. But as with the other steps, there are additional points to keep foremost in mind.
The first of these is keeping all parts of the delivery on a schedule. To the first point, having a sense of what will be delivered and achieved, and when, will allow you to track the progress of this change. After all, you're automating your procedures for the sake of concrete benefits — it only stands to reason that you should know what benefits you've achieved.
The second is keeping all employees in the loop about the progress of the change. Staff may be unsure how workflows will change, or they may even be worried that automation will lead to layoffs. To keep operations at normal levels, it's vital to be open with everyone and alleviate those doubts.
Finally, don't plan a fixed end point as part of the installation. Automation software will likely need maintenance and upkeep, especially if your business experiences growth or structural changes; it's just proactive to allow for those changes to be made at the outset of this change rather than be caught flat-footed later down the line.
Considering Your Automation
It's hard to plan out a specific path to automating procedures, of course, because at the end of the day every business and their procedures differ greatly. What exactly you plan to achieve with automation won't necessarily be the same as even a competitor, simply because you'll likely have different ways of actualizing projects.
So remember to take these guidelines as exactly that: guidelines, not rules. Maximizing the business value of automation will require a long, careful look at how you specifically do business, and your particular needs may not adhere to this structure. Still, bear in mind the principle of planning out your transformation and being highly collaborative with staff and external experts alike, because being hasty or advancing this process alone can easily backfire.
Above all, though, remember that you're automating processes for real, concrete business benefits. Stick to that idea and a strategic approach, and you'll be well ahead of the curve no matter what your workflows require.
Check out how Wildix uses automation for a simpler workflow through our integration with the business intelligence software from Gong.io.
For more tips on using technology to improve work procedures, subscribe to receive our magazine for free!